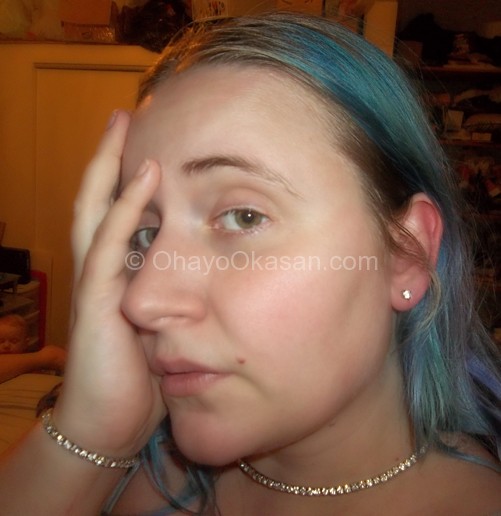 Can you believe we already made it through a month of the new year?! It's already February!
It's so much already February that in the morning it'll be only 11 freaking days until Valentines Day!
Yes, you heard me… 11 days!!
This means I have 11 days to plan Var and Lisi's class Valentines Day things, figure out treats for their class parties, see if Sisi wants to do anything for her friends, PLUS plot something for Cid and ALL the kids from me. I'm so behind! Last year I had Cid and the kids' things from me plotted out before January ended.. How did I do this to myself?
Okay Kisa… just breathe… just breathe.
I remember when I used to do goodie bags for each kiddos class. That meant four elementary school classes of goodie bags for holidays. Halloween, Christmas and Valentines Day actually. A couple of years I 'resorted' to doing full sized candy bars in one way or another. Well okay, so only some years was it four! It started out as one, then quickly two, then three, then four…. >.> At one time I did have all four in one elementary school. If my math is right… Yep.. Yep I think so.
One Christmas, because I just didn't have the printer ink, I cut out wrapping paper in the right size to wrap around the wrappers of kit-kats. I was going to say I didn't have the patience to make, print, cut out and wrap special made candy bar wrappers. But the only thing that did matter at the time was the lack of enough printer ink to print out that darn many wrappers!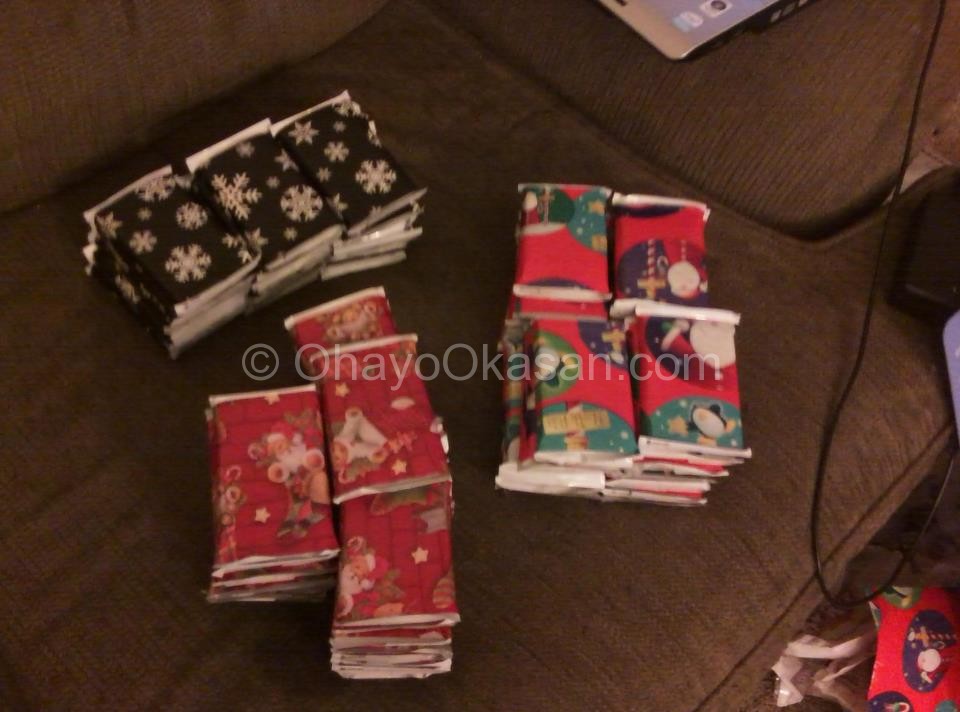 That was my Plan B, and the picture only showed three out of the four classes I was doing them for. They're white chocolate kit-kats by the way, because my kids are gross (okay okay, Kat actually doesn't like white chocolate anymore either, and I will admit that I DID like white chocolate as a kid… but no longer do…)
The Kit Kat year was also the year I did this. For four teachers plus the school counselor (who was helping me do my best to try and handle the messy situation Var was having in school that year..)
After I saw the school counselors in her office still looking like this three months after Christmas, I decided stuff it. I'm not doing stuff like this for that anymore. Now? I'll give a box of chocolates or something I didn't have to plan and put together. Considering it seemed uncared about, 🙁 at least she could have taken it home… I was kind of bummed. Maybe I took it the wrong way. The vases had candy (you can't see all of it), hot cocoa mix, and I decorated it a bit more than this before I gave them. sigh anyway..
Worrying just now about Valentines Day reminded me that one year, back when I only had Kat and Sisi's classes to worry about (Aka: 2009!) I made my own regular candy bar sized wrappers to print out!
I'm considering doing it again this year, but maybe on a smaller scale. Var and Lis are saying they want to do the "Air Heads" candy cards again, but I am thinking.. I'll make a PRINTABLE to go around the airheads so the kiddos each get a full sized one instead of a dinky one!
Yusss!!
What do you think? Air Heads printable wrappers, or just the "buy in a box" Air Heads valentines??