I was sent the EcoTools Bamboo Bath Brush Set to review from The Ultimate Green store and couldn't be more happy.
I've bought various types of bath brushes over the years but they just haven't been that great. They break easily and they're just a giant pain in the rear when they do!
Planet-friendly shopping at it's finest, The Ultimate Green Store.com offers a huge selection of both practical, beautiful and cool eco gifts as well as organic holiday decor. To get ready for the holidays, visit their Home department where you can find high quality glassware made from recycled wine bottles, non-toxic kitchenware, organic table linens and beautiful serving pieces made from sustainable bamboo. Refresh for guests with organic cotton bedding and towels. They have a huge selection of wonderful non-toxic toys, and cool bento lunch boxes for kids, a substantial baby department, organic pajamas and robes and even things like solar charging backpacks and messenger bags (what man wouldn't love that!). Written up by the Huffington Post as one of the best places to shop for the holidays, there is something green and great for everyone on your list!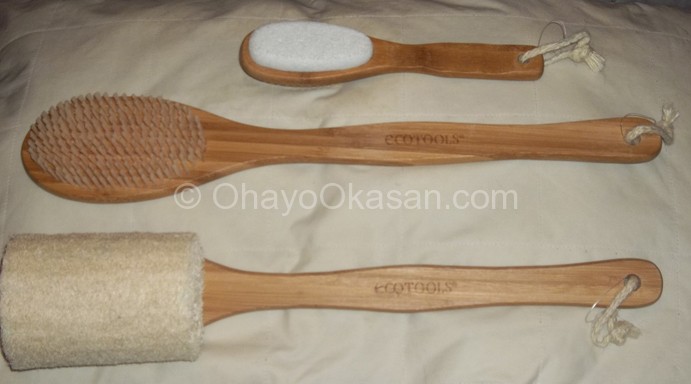 This bamboo bath brush set comes with a natural Loofah Brush, Bristle Brush and a Foot Brush. The long handles on the Loofah and Bristle brushes make it very easy to clean your back with! Plus any other hard to reach places.  They're perfect for Kat and Cid who need to pay more attention to their backs than I do… as I was blessed with easy skin that doesn't break out overly easily. >.> Sorry guys…
My favorite is the foot brush, I love having the natural pumice made that is made of recycled glass. I enjoy being able to easily get the nasty dry skin off the bottom of my feet… and … I will admit to using it on Cid too so I can get the yucky thick skin off HIS feet too. He has… pretty gross feet if I don't make sure he doesn't. Men sometimes, ewww…
The handles are all made from sustainable bamboo, the loofah is natural. Which is interesting to use compared to the fakey plastic loofahs. I would say this one works way better than anything I've ever used!
Want to win your own?
You're in luck! You can pamper yourself (or someone you love!) this Valentines Day and give them the gift of this set!