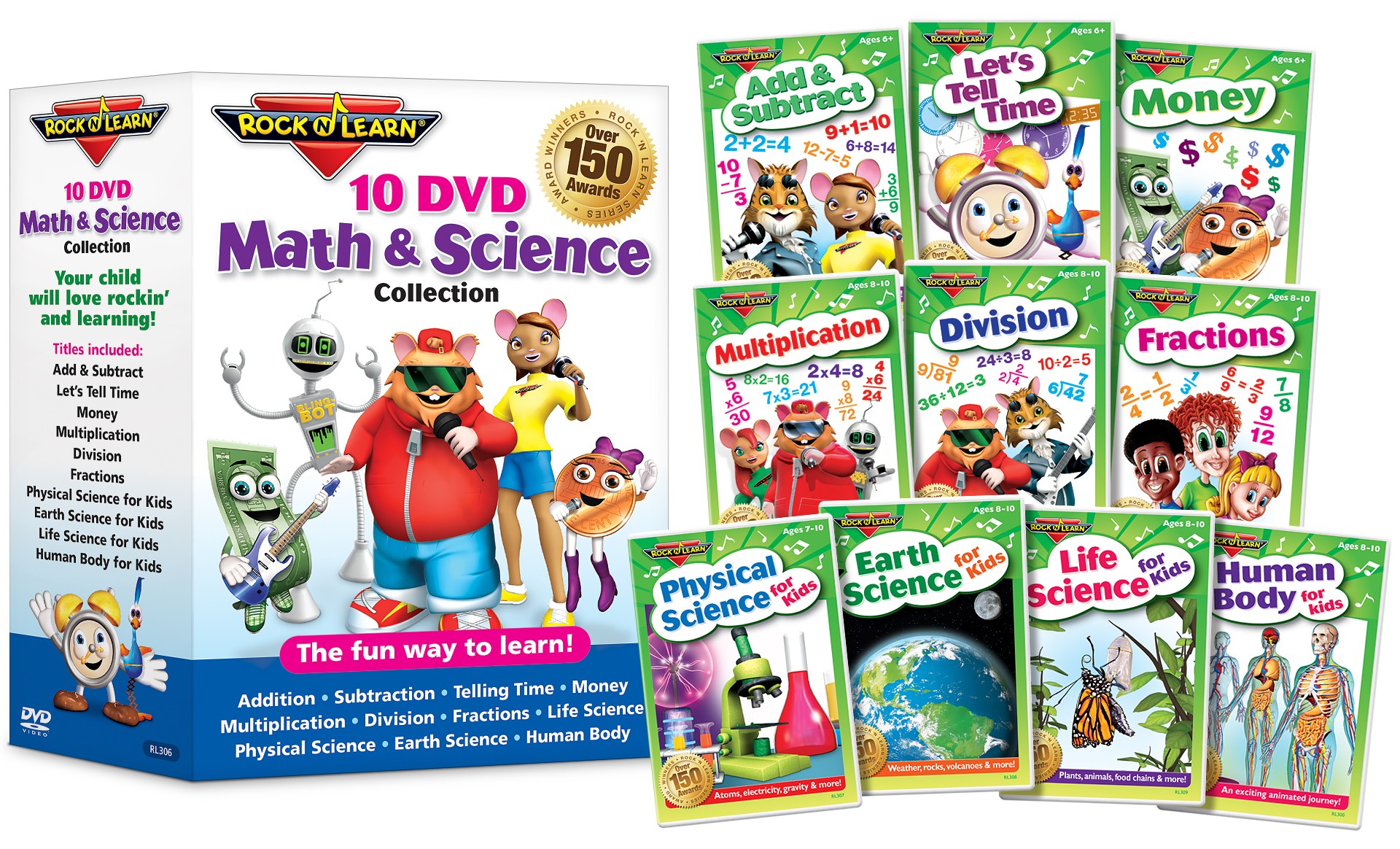 Rock N Learn educational DVD's are a great and fun way to help your kiddos learn!  I got to try out the above pictured DVD's  and the Multiplcation Rap DVD with my kiddos and they're wonderful! Var has a little trouble with multiplication, and the Multiplication DVD is teaching him and getting him up to common core state standards.
Disclaimer: we were sent these Rock N Learn items in order to facilitate this review, no other compensation was gained at this time. Thanks for understanding!!
Included are Add & Subtract, Let's Tell Time, Money, Multiplcation, Division, Fractions, Physical Science for kids, Earth Science for kids, Life Science for kids, and Human Body for kids. A great set over all to supplement homeschooling or any schooling really!
Right now, there is a 10 DVD Rock N Learn Preschool pack is $39.99 on Groupon! The preschool set includes First Sight Words, Alphabet Fun, Rock 'N Read, Colors Shapes and Numbers, Phonics for Beginners, Phonics for Reading, Sight Words, Let's Play School, Nursery Rhymes, and More Sight Words!
I should mention that since these are value sets, things like the multiplication and stuff are a little shorter than the full DVD's. Multiplcation goes up to 9's, instead of 12's like the full DVD's.
So far I am really pleased with the DVD's and the extra boost to Var and Lisi's education they provide. I can have the kids watch them during the summer, specifically Lisi and Var and wont have to worry as much abotu them potentially losing skills during their break from school.
The idea of the preschool set is great too. I am going to get getting it on payday as I think even though Risi is only 14 months, it's something she might be interested in watching. Or at least listening to…
Have you heard of Rock N Learn before? Have you ever used any of their products?