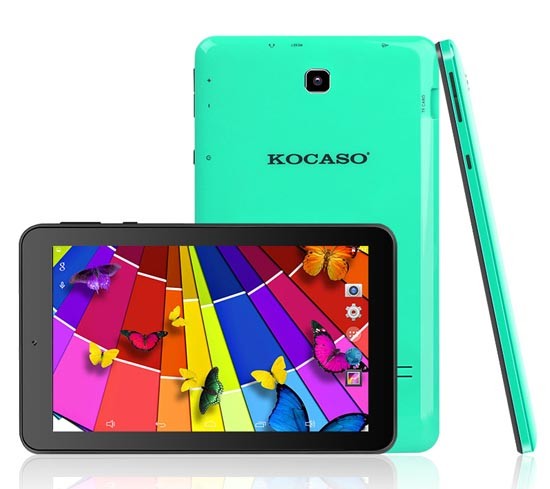 With a Quad-Core CPU that runs up to 1.2GHz the Kocaso MX780 tablet is a great lower cost tablet option for those who want something fast, without a huge price tag. Running Anrdoid 4.4 Kitkat means the newest apps are at your disposal for use. Don't let the 512MB of memory fool you into thinking this tablet would be too slow for what you want to do. Everything I've done on a 'higher end' tablet works just a great on the Kocaso!
Disclaimer: I was sent a Kocaso MX780 Tablet in black in order to facilitate this review, all opinions are my own unless otherwise specified. 
Sent with everything you see in the picture above, the MX780 is ready to go right out of the box. Though you'll likely want to let it charge fully when it gets to you.
The tablet starts out with 8GB of space for your apps, pictures, music ect… but don't worry, unlike some tablets out there, you're able to buy a micro-SD card to expand your space capabilities. This tablet can handle a memory card up to 32GB, which would give you a total of 40GB. If you're needing more than 40GB… you likely want a laptop and not a tablet!
Unlike some of the low cost tablet options available on the market, the MX780 has two cameras front and back. Though the front facing is a 0.3MP and rear facing is 2.0MP. You'll want to make sure you have enough light for good pictures, though there are options to help with taking better pictures if you look through the manual and play with options.
With WiFi IEEE 802.11 b/g/n you are able to quickly connect to a wifi network in no time… well if you have a password or are near one that doesn't require one. The tablet also offers external 3G module dongle support, but you'd need to buy that separately.
This tablet is a 7″ tablet with a resolution of 1024 x 600 pixels. It's the same quality of screen as the InnoTab Max, and many other lower cost tablets. So it's a little strange at certain angles, and has kind of a metallic look if you're at one of them. It took me a little getting used to as I am used to my iPhone screen and Lisi's iPad, but once you use it a few times it's not a problem.
You can purchase this tablet in a wide variety of colors! Aqua, Hot pink, Blue, Silver, Purple, Orange, Pink, Black, Red, White, Gold, Green, something I wish more companies would do without charging a ton extra. Is it so wrong tat I was a metallic blue phone or tablet? hmmm??
Kocaso Tablets are available on Amazon, Rakuten, Newegg and other online sites.