Hoodsbee's are Hoodies that are also a friend. By that I mean they roll up and become something of a plush toy for your kiddo to enjoy. The original Hoodsbee's for girls are for sizes 2 – 6x, and come in four styles. Prancy the Panda, Mimi the Fox, Milo the Owl and Ribbons the Monkey!
Boys Hoodsbee's are sized 2 – 7 and four different styles. Clobber the Monster, Tig the Tiger, Eyevan the Monster and Anchor the Shark!
Since Risiel is my smallest kiddo, I wanted to see how she'd like the Hoodsbee! She's the only one of the kiddos that would actually fit in the small sizes they have.
Disclaimer: I was sent the following item in order to facilitate this review, no further compensation was gained in writing this post, and all opinions are my own unless otherwise specified.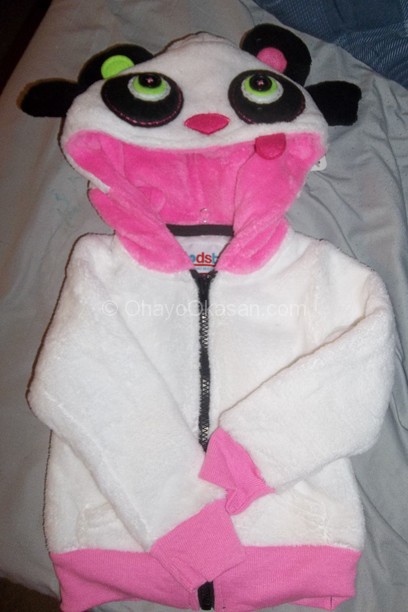 For Risiel, I picked what I thought was going to look the cutest on her. Prancy the Panda!!  Ohh, I was so very right, the Prancy Hoodsbee is positively ADORABLE and on Ninja? Oh yeah, even better!
I picked the 2T size for Risiel, as she's in the 97% for girls her age, so I knew it'd fit. Maybe a little big, but we've got a few months of cold yet, so it wasn't likely to be an 'issue' for long!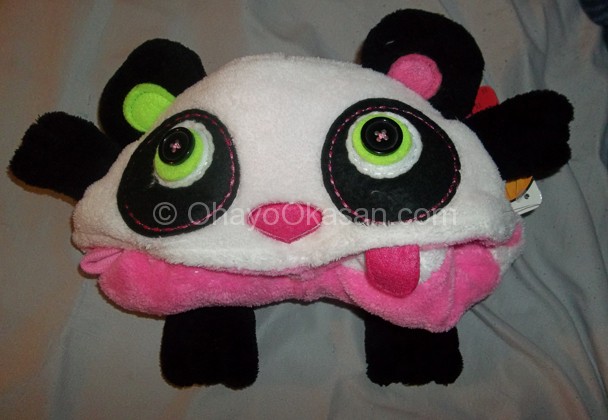 Rolled up the Hoodsbee is pretty cute, Risi was in loved with the eyes, and well.. I like Panda's, so perhaps my opinion is biased, but it's pretty stinking cute!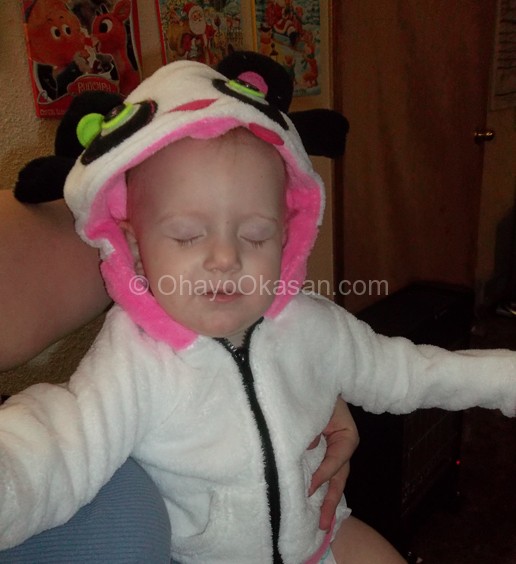 Risi tends to have this reaction when I turn on the camera. Why? Because she's expecting the flash! Still, look how adorable she is?!
You can never have enough hoodies, more so around here, I can put her in her car seat with a hoodie on, because they're not poofy like a winter jacket. So they've perfect for getting in the car and getting covered in a blanket.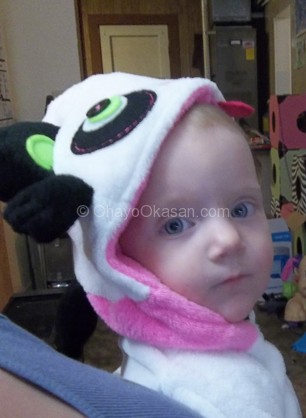 It's maybe a little strange to have hands coming out of the top of her head, but she pulls it off. The Hoodsbee is so soft, that Risiel was rubbing her cheeks all over the inside of the hood as she wore it.
Right now all original Hoodsbee's are 25% off the regular price of $39.99, making them $29.99. It appears they had limited edition Hello Kitty Hoodsbee's, but only made 1200 of them! Of course, I didn't get one, but it would have been so cute!!
You can find Hoodsbee on Instagram, Facebook, YouTube, Twitter and Pinterest!
Which is YOUR favorite of the Hoodsbee's?