About No Slippy Hair Clippy:
No Slippy Hair Clippy® is the original no-slip hair clip company, and is regarded as the premier baby and girl's hair accessory. We take pride in our impeccable hand-made quality, and work hard to create adorable and functional hair accessories that are hand-made in the USA!
For generations, baby girls with little locks were often mistaken for boys. Moms back then would use Caro syrup or scotch-tape to stick a bow on top of their baby girls' heads. There was a big need for a better solution… and voila! Along came No Slippy Hair Clippy.
We've been making no-slip hair clips since 2000, and have adorned millions of little girls all over the world. Our velvet wrapped clip was a huge breakthrough then, and continues to be the cutest, most effective child centered hair clip anywhere. There might be other companies making no-slip hair clips now, but they certainly don't compare, and they are also not "ouch-free" (like all of our products are).
Every hair accessory we design is created for comfort as well as being a no-slip product. We hope you'll become one of the new raving fans who enjoy our fun and unique creations, year after year…all hand-made with love.
www.hairclippy.com
No Slippy Hair Clippy sent us along some of their offerings and I am so glad they did so! I've worked with them before, and they've added to their line-up since then! They offer full sized clips, which are great for Lisi and her thinner hair that has a hard time keeping in clips. We got this beautiful white flower clip that Lisi loves to wear and looks great in her beautiful red hair. (Bad photography is totally my fault…)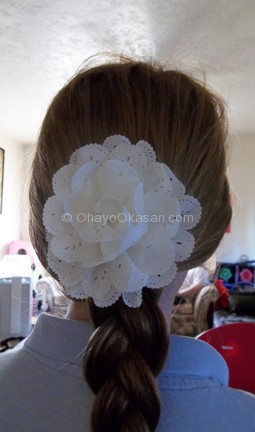 Recently added to their line up just so happens to be some ponies! We were sent two korker ponies, even though this picture just shows Lisi wearing one in a braid. We have two, but she didn't want pigtails. Risiel doesn't have enough hair to use the ponies yet, but I can't wait until she can!! These are the Citron Korkers!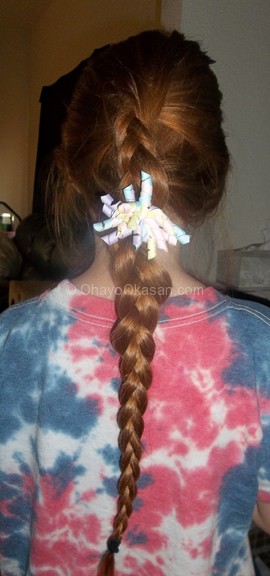 We were also sent a no slip headband, which has a little no-slip section right below the flower to keep the flower part of the headband where you've placed it. Risi wasn't sure what to think at first but she looks so darn cute as can be in this headband!! This is a read Giselle Headband and it goes for $11.95 on the website.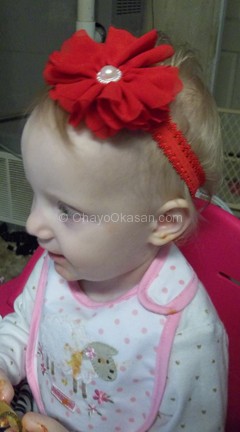 We were also sent an adorable little baby bow! This itty bitty bow is called "Blair Bubblegum" and goes for $5.95. All the pictures I took of Risi wearing this ended up blurry as she kept trying to attack the camera… So I just went ahead and put it in to show you just how cute and little it is!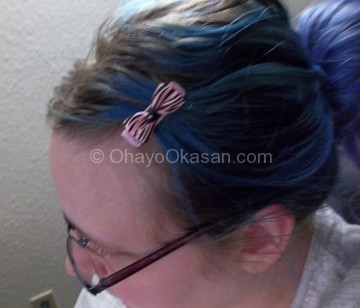 All of their orders come with a ribbon strip with a ring so you can hang your clippies up and have them someplace easy. Lisi still has the one from her previous order and keeps her clippies on it for easy display and an easy place to pick them from. Now that we have two displays we have room for even more clippies!
For the holiday season No Slippy Hair Clippy is running a FOUR DAY Cyber Weekend Event!! You'll get 50% off the ENTIRE SITE! By using the code CYBER03 !! The sale ends on December 1st so go!
Right now you can win a $25 Gift Card to No Slippy Hair Clippy by entering the giveaway below!