Plum Organics offers a variety of organic foods for babies, toddlers, and kids. I was happy to be sent some of their products to try out for Risi, though I did request nothing of the squished/mashed fruits and veggies in pouches. The kids just don't seem to like any I've ever tried. o.O Maybe it's the odd sensation of sucking things out of a pouch that they've never tried before?
Just to let you know, we were sent the following items in order to facilitate this review, no compensation was gained in writing this post! disclaimer!! lol
We were sent Fruit and Veggie Shredz, Super Puffs and some Jammy Sammies! They have so many other items that I look forward to buying and using in the future.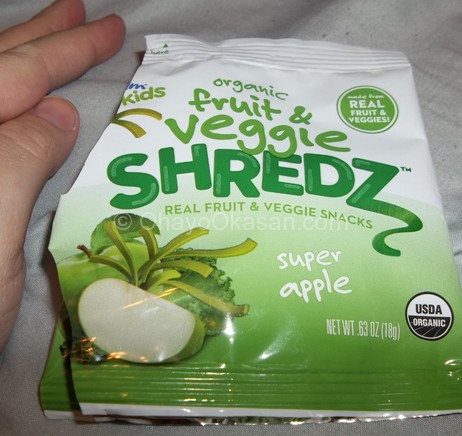 Based on the packing here for the Super Apple Fruit and Veggie Shredz I was expecting GREEN Shredz… So I was a little surprised when of all things. We opened the package and…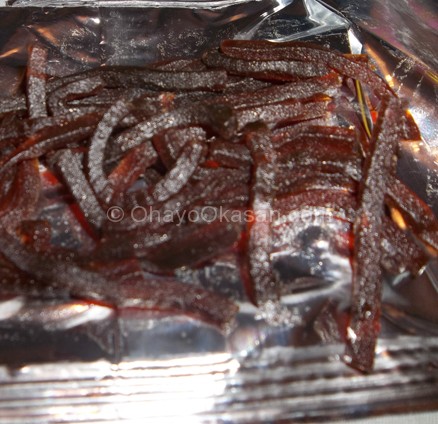 Reddish? Huh. Basically seems just like a fruit leather but put into shredz to easy easily. Var liked these, and Risi tried but doesn't tend to like things that are sticky and 'hard' to chew. She only has 6 teeth, so she just may not be ready for them. I have texture issues but I tried these anyway, and they're really not bad taste wise. The texture just doesn't work for me.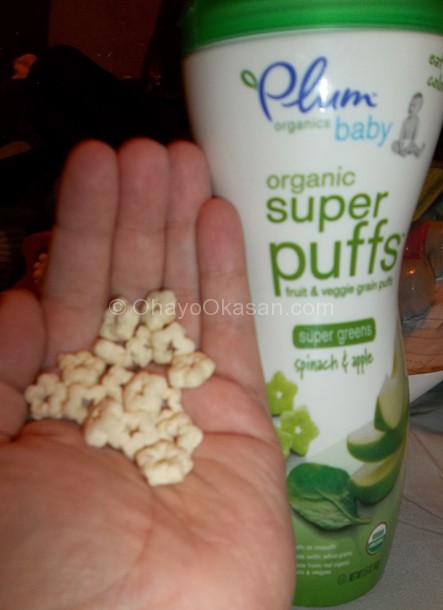 With the Super Puffs, I was again expecting green puffs. They showed green, are called super greens, are spinach and apple… but.. they're… normal yellowish/off white puffs? Ahhhh…. o.o;
While I appreciate that the pictures are lovely on the packaging, I wish Plum Organics would actually show what we're getting color wise on the outside!
Well… we gave them to Risi anyway! The verdict? She actually likes the puffs!
Under the kids line we got the Plum Organics Jammy Sammy's which I figured would be actually the perfect LUNCH size for Risi, but a snack for bigger kids. I was right! Her favorite of the two we got just so happened to be blueberry & oatmeal!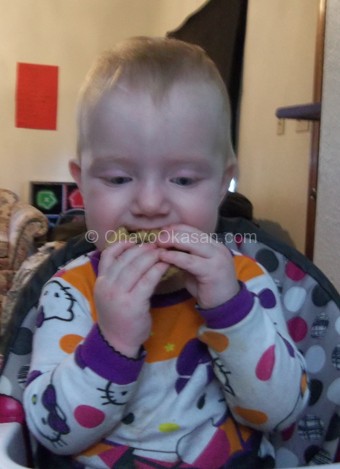 The one thing I do not love about them is that they crumble.. a lot! The picture with Risi and the puffs with the Jammy Sammy in her hand shows just how messy the outside of these are. We end up with crumbs all over the place even if Var tries eating ones. They just kind of crumble. They taste good (to Var and Ris, I can't do jam) but they're messy. Still, kids are messy in general, so it's just a bit of extra clean up. >.> Just be prepared for crumbs for miles.
Plum Organics now offers new frozen snacks! They offer three types of pizza mini's and savory minis! I am excited to give them a try on Risi and see what she thinks.
Do you try and get your kids to eat organically? What products do you like from Plum Organics or would you like to try? Leave me a comment below, it'd be greatly appreciated!
Plum Organics products are part of my 2014 Holiday Gift Guide. Find out about more awesome products on the Gift Guide main page!