Lisi has been in love with all things girly and pink since she was little. It's pretty much what she has always gravitated towards. Girly, princess, kitties, ponies, pretty sparkling stuff. Any time we looked at building brick toys for anyone, she always went right for anything 'geared towards' girls.
The Mega Bloks Hello Kitty sets caught her eye from the get go!
Disclaimer: I received the following item in order to facilitate my review, no other compensation was gained in writing this post.
So for Christmas, of course getting her another one would't hurt, she actually picked one of these as a birthday present last year. Thankfully, not this one! Heh.
I was sent the Hello Kitty Fun At The Fair set from Mega Bloks, and I've got to say it's an awesome set! I wish we would have had Hello Kitty sets like this when I was little, though I didn't mind too much back then… I'm jealous of how cool some toys are now a days that's for sure!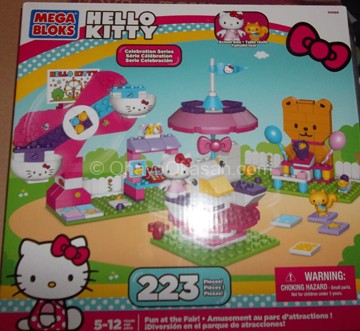 This Hello Kitty Mega Bloks set is rated for kids 5-12 years of age, contained 224 high quality, colorful pieces, and full detailed instructions to build exactly what you see on the box. 
It's cute, it's pink, it's fun, and it's Hello Kitty! I wouldn't say this is specifically only for little girls. Any fan of Hello Kitty would appreciate the wonderful line up of Hello Kitty Mega Bloks toys! There is a vast line up of toys, including this one, that you can find at stores such as Walmart and Amazon.
If I didn't think Lisi would love this, I'd be building it for myself and putting it on a shelf. It's that cute!
I'm impressed by the bright colors, and the detailed instructions included that are really going to help Lisi work her way through this Mega Blocks kit which will just add more Hello Kitty love into her room.
Mega Bloks offers other character steps too! From Barbie to Hot Wheels, SpongeBob, Skylanders and more. They also of course offer their First Builders sets, which are great for little ones. I know one of the things I want to get Risi this year is some Mega Blocks First Builders blocks, as the experience of playing with blocks and building sets is great for development. 🙂
Have any of your kids ever had Mega Blocks toys? Which set of Mega Bloks are you, or they, most interested in? I'd love to know in the comments down below!
This product is featured in my 2014 Holiday Gift Guide! You can find more products featured by checking out the 2014 Holiday Gift Guide page!