One thing that has always been kind of a bummer about candles and things with something inside of it, is there isn't really a lot of choices offered. Often time I'll get a ring that's low quality, and way to huge or too small. Meaning it's kind of a giant disappointment. Plus… what if I want something other than a ring?
Disclaimer: we received the following products in order to facilitate this review. All opinions are ours unless otherwise expressly stated. Thank you for understanding!
There are four different categories to choose from when you look into getting something fro, Embedded Treasures. There are gifts for him, her, date night and baby shower. I was allowed to pick two different categories, and what type of inside gift I wanted, but not what actually came in the items from the category.
The For Him Category has gifts that come in a glass beer stein and you can pick from three different snack items. Honey Roasted Peanuts, Spicy Trail Mix, and Pretzels. We were scent the Spicy Trail mix, which.. while no one really loved, I am sure tons of people love it.
For the For Him gift, you can choose from either a cash or  electronic item as your prize. For ours, we picked cash! There is a minimum guaranteed cash prize of $10 US. Sweet!
Electronics you could win include mini speakers, headphones, mp3 player, tablet or laptop! Your electronic item will be in the box your candles were shipped in, and you'll find a slip of paper with the description and value of that electronic prize.
We really couldn't wait to see what was inside. $20! Nice! Considering the cost of the For Him's are $24.95, that's 80% back! Though the "up to $1000" means you could win even more than that.
We next decided on the Date Night Out category, which also cost $24.95, and come in a 17 oz wine glass.
There are three different things you can get from the Date Night Out category. Scented Bath Salts, Chocolate Covered Espresso Beans (I love these!) and Jelly Beans. Again, I didn't get to pick what was in our gift… so we got jelly beans. I don't really like jelly beans, and these ones are pina colada ones? They… were okay. I do love the glass though! Plus finding the prize inside was AWESOME!
You can pick cash, electronic, jewelry or super size me. Super Size means you get two glasses, no choice on your prize because one will be cash and the other will be electronic.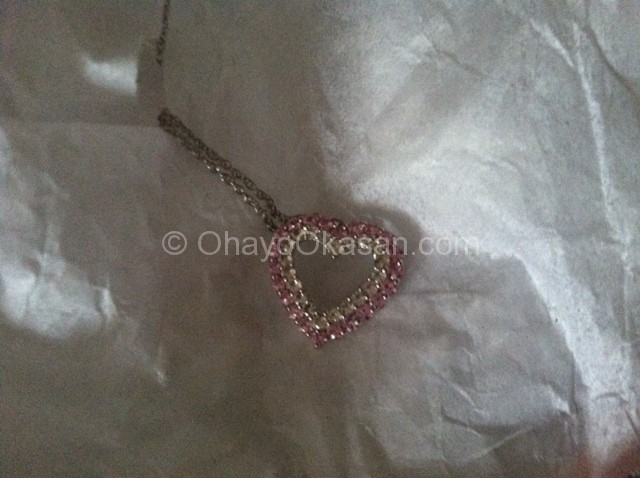 A necklace!! A necklace with a retail value of $137!! Whhaa?? This is the best thing I've EVER EVER gotten inside any sort of hidden treasure thing!
Your jewelry item can be valued as much as $5,000! Depending on just how lucky you are.
Seeing as the necklace is a heart, and pink with white, I've actually got it hidden away as I decide if I should keep it for me or give it to Lisi as a Christmas present.
Overall I think Embedded Treasures is my favorite of the surprise gift products I've ever seen. The For Her section includes three different candle sets, while For Him, Date Night, and Baby Shower offer three different items as well.
The only thing I would really say is I wish they had better choices on snacks for For Him category, and perhaps better flavors of jelly beans in the Date Night, as well as maybe different scents of bath salts. They are a smaller company right now, so I have no doubt in the future they will likely grow and expand their offerings of things placed inside the steins, wine glasses, and baby bottles.
Have you tried any sort of hidden gift product? Which one has been your least favorite or even your favorite?