If there was one thing I needed to make sure to do this year it was actually buy more baby friendly toys. Well toddler friendly, whatever Risi's age makes her. Those indications are something I forgot awhile ago. Considering Lisi turned 8 in May, and I had thought I wasn't actually going to have another child, I'd long ago given away all of our baby centered things.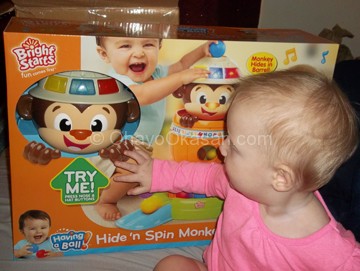 Right from the start Risi knew that this package was from her. The Bright Starts logo was on the shipping box, and she went right to this box out of all the ones I'd gotten for product that day and tried to figure out how to get inside.
Disclaimer: we did receive the following product in order to facilitate this review, still all opinions are my own, or those of members of my household, unless expressly stated otherwise. Thanks for understanding!
Bright Starts has some awesome baby toys, they actually are the brand we went for when we wanted a back and tummy time toy for Risi so many months ago. Her best friend for awhile was the bird hanging from the plus cross bars on the toy, it played songs, and Risi always liked when we'd ask "Do you want birdy to play song?"
We said just song, because she would say "ong… ong… ong…" while trying to get the bird to play music. Anyway….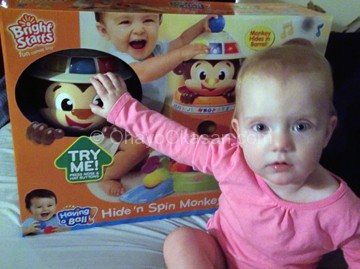 Risi was so thrilled the second I pulled this box out of the packing box, she wanted the monkey RIGHT AWAY! Her favorite part of the Hide N Spin Monkey has been the fact that after so many balls have passed through the monkey via his hat, down into the barrel, the money will go hide inside the barrel and the balls will come out and spin on the yellow banana spinner at the bottom.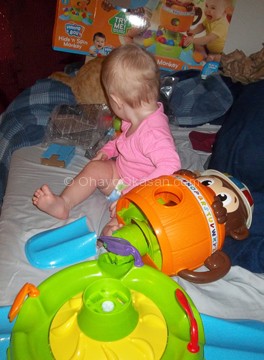 She wanted the balls and the monkey the most out of all of it, making her a little impatient as we put everything together. You can close the colored leafs at the bottom to keep the balls on the banana spinner, or open them (easy for little ones to do!) if you want the balls to go rolling across the floor. The blue ramps help them roll down instead of just being pushed kind of wonky out and about.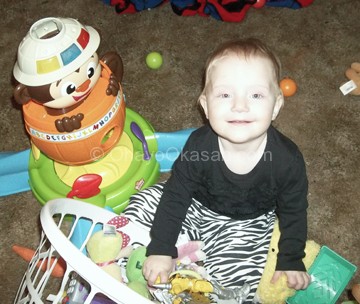 Risi… actually doesn't like the blue ramps to be on the Hide N Spin Monkey toy, if they're on the will get them off however needed, even if that means getting really really mad and making a frustrated cry. So we generally just keep them off. I am not sure why she doesn't like them though, but other than that she loves this toy.
I'm not going to lie either, Var (who is 9) and Lisi (who is 8) love to play with this toy too. They'll put the balls in over and over and over as they love to make the monkey hide. It's a strange phenomenon I noticed back when Kat was around this age.. Older kids tend to LOVE baby/toddler toys. My little brother and little sister were pretty into some of Kat's toys way back then, and it's interesting to see that it wasn't just them.
It's no wonder this toy was actually included on Toys "R" Us' 2014 Holiday Hot Toy List!!
Have you noticed any of your older kiddos loving toys like this that are designed for littler ones? I have to admit even I have fun making the monkey go hide in his barrel!
The Bright Starts Hide N Spin Monkey is geared towards kiddos ages 6 – 36 months, and I would highly recommend this toy.