Disclaimer: I received the following items in order to facilitate this review, all opinions are my own unless otherwise specified.
One thing I really wanted to look into this year for the kids were customized gifts for kids. Growing up it was hard to find things with my name on it, which could be a bummer if you were in a gift store, no personalized name pens, cups, or key chains, but hey.. I survived.
Still, they're one of those things that kids tend to either love or hate, and Lisi is the type who seems to enjoy the idea of them. So for her, this review is perfect.
Frecklebox offers a wide range of personalized gifts for kids, including lunch boxes and drawing pads!!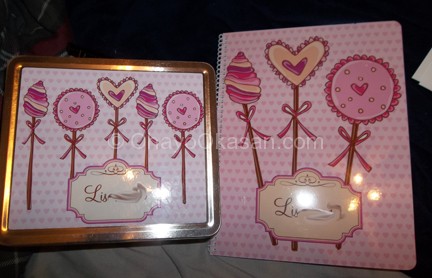 No no, they didn't come with the funky swirl on the picture, I did that to not give away Lisi's full first name. Which is something I do for all of the kiddos as I am sure you can tell.
I was a little worried during the design process, in the preview picture for the lunch box her name was oddly floating too far up on the little name plaque. It came out with no problems as you can see above! I wondered about the print quality too, seeing is believing you know?
I was super happy to be able to find the same pattern/design for both the lunch box and drawing pad. They had so many cute patterns and patterns that would fit any of the kids. I started to wonder if I really wanted to do just Lisi.. or do someone else something too. In the end, I decided to just do Lisi at this time.
I can't wait to see how excited she is to have her own lunchbox with her name! She's expressed interest in having a metal lunch box before, even better to have one with her name on it. 🙂 It also wont look like most other people's in the school.
Lisi tends to go through drawing pads as fast as a person tends to go through a pack of toilet paper. I'm not even kidding, she draws so much I had to restrict her to drawing book/pads because she was going through too much printer paper! At least this way it's all kept together.
Now she'll have a very special sketch book with her name, that isn't just the standard black or blue cover that most of the ones we've been getting her have had. The paper in the sketch book is a good quality, 80# paper with a total of 50 pages. A good deal for the price and for allowing it to be customized with a variety of covers and your kiddos name. Or heck, even your name if you so want!
The Sketch book goes for $9.95 and the lunch boxes go for $29.95 – $39.95, depending on which lunch box style you get. This metal one was $29.95.
Have you ever gotten your kiddos anything personalized before? Frecklebox has an amazing variety of products you can personalize!
You can find Frecklebox on Facebook, Twitter and Pinterest!