Disclaimer: We received the following product in order to facilitate this review. All opinions are our own unless otherwise specified. Thanks for understanding!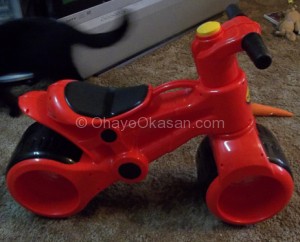 Plasmart toys has an amazing array of children's toys and they're still growing! They have toys for moving, play, creativity and challenges.
Two of the most known products by Plasmart Toys are the PlasmaCar and PlasmaBike, and we are so lucky as to be able to try out the PlasmaBike and give Risi an edge in learning to ride a bike.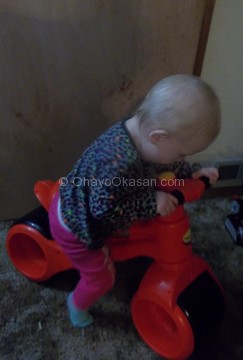 While Risi is technically too young for the PlasmaBike she is the right size for it. She is the size of an 18 month old so I figured that even if skill wise she's not 100% ready, she can be introduced to the bike so that it's not a strange and unfamiliar thing to her once she gets to the age where she can balance better.
She does love to try though, and the included horn on the bike is something she enjoys to play with as she navigates figuring out the bike and explores making the bike move with the handle even as she's learning to walk right now.
The PlasmaBike has a handle and is super light weight, well I mean it only weighs 7 pounds and is super easy for me to carry even on my high pain days!
Recommended for 18 months and up, and kids up to 55 pounds I know this is something that Risi will be using for many years to come. For kids who are more advanced (like Kat was at a year) this would be the perfect learning to ride balance bike that really is one of a kind.
Risi loves to look her bike all over, she'll pull it over on it's side so she can explore every last inch of it. The nice wide wheels a perfect for holding it up easily (it needs no kickstand to stand on its own!) and the design leaves very little room for a little one to accidentally get hurt if they are exploring every last inch of it like Risi tends to do!
I look forward to seeing Risi continue to learn and grow with her PlasmaBike! I know that she's my first to be able to learn to balance with a bike such as this, and I am thankful that she has this chance. I never knew about products like this until the other kiddos were a bit older.
You can find out more about Plasmart Toys and follow them on Facebook, Twitter, Google +, Pinterest and YouTube! 
Have any of your kiddos ever used a balance bike? Have you heard of Plasmart Toys and their PlasmaBike?