Disclaimer: Softsoap sent the following products in order to facilitate this feature review this holiday season. No further compensation was gained for writing this post. This means we were sent product to try in order to write a proper review and no money was exchanged for our opinions. Thanks for understanding!

The fall and winter can be very difficult for me. The leaves, temperatures and sunshine all fall. Leaving me longing for the days of summer.
Softsoap would like to introduce their new Sea Kissed exfoliating body wash, making you feel like a little piece of summer is with you no matter what time of year it is.
I first used the Sea Kissed exfoliating body wash on a cold rainy day last month to try and lift my spirits from the stress of all the holiday hub-bub coming and to cope with the cold outside that seemed to follow me in no matter what. Though usually I prefer more 'baked goods/vanilla' scents to things I have to admit I really liked the gentle fragrance that Sea Kissed offered. It's a great pick me up for me and I use it when I need that comfort on these cold miserable days.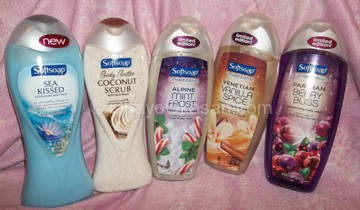 Along with the Sea Kissed we were sent a Softsoap Body Butter Coconut Scrub! Sisi loves Coconut and as someone with Keratosis Pilaris she needs to exfoliate when she takes a shower. I knew the scent was going to be perfect, and I was right. She loves it and her skin is starting to improve with the help of something she actually WANTS to use and exfoliate with.
We were also sent three limited edition holiday scents!
Alpine Mint Frost – Which as you probably know went right to Kat as she LOVES minty things. I have to admit I use it on occasion as well, the cool mint smell and smoothness of the body wash makes me feel like I've washed myself up with a smooth creamy mint patty… without being covered in sticky chocolate minty candy. I go to bed smelling and feeling minty fresh, but not in that strong gross toothpaste kind of mint way. It's positively luxurious and I am going to need to stock up on it since it's limited edition!
Venetian Vanilla Spice – I didn't use to like vanilla when I was younger, I mean vanilla scented things. But the older I get the more I appreciate the soothing scent of vanilla. It reminds me of french toast and cookies. I even use Vanilla scented oil scents for the bathrooms and kitchen. I love that 'I'm baking' smell, that vanilla seems to give off. Thankfully the 'spice' isn't too much for this scent. The vanilla is pleasing and great for a calming shower, yes yes, I'll admit I just like to smell the stuff at times and will just open the bottle to enjoy the scent!
The last and probably not the top of the like list heree, but still appreciated would be the Parisian Berry Bliss – I don't super love fruity/floral scents as more often than not they seem extremely artificial and perfumey, I do like this scent, and have used it a couple of times. But found that Aussie seems to not have a problem with the fruity scents so I let him use it. I'm partial of course to the Alpine Mint Frost and Venetian Vanilla Spice. It's all good though, because that is the joy of having different wonderful scents to choose from. You can get what you like and leave what you don't.
Softsoap has some wonderful products, limited edition and not, that are bound to make someone on your list happy. These would be perfect in a gift basket for a woman in your life who likes to, or needs to, take some time out of her day to pamper herself and enjoy!