Disclaimer: We received the following item in order to facilitate this review, no other compensation was gained in writing this post. I just wish to comply with the truth in advertising and testimonials requirements! Thanks for understanding!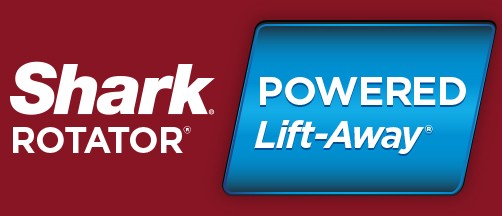 I hate vacuuming.
There I said it.
We have more carpet than anything else in the entire house. Only the bathrooms, kitchen, and a tiny bit right in front of our side door do not have carpet. Yes, we even have carpet in what is supposed to be the darn dining room!
Thankfully, Shark has a vacuum solution that fit our needs!
Here is the situation here at our home: Eight humans and seven cats.
Yes, yes you did read that right. That many people and humans in the home.
ALL but Risi have long hair (as far as the humans go.) For boys that means longer than ears, for girls that means all about mid-back. That makes things difficult for a vacuum, and I've gone through many over the years needing something that works enough. Vacuum after Vacuum just hasn't held up to claims of being good enough.
Basically, I've never had a vacuum that could suck well enough, yes, take that as you will! 😉
The Shark Rotator Powered Lift-Away is 3 Vacuums in one! It's pretty amazing everything this thing can do! You can use it on hard floors, there is a mini motorized brush attachment you use in small areas and on furniture to help with pet hair (yes oh goodness yes!!) Indeed the vacuum is truly a thing of beauty.

I have so declared this vacuum my 'new best friend'!! My Shark Rotator Powered Lift-Away has swivel steering, meaning there are no real hard to get areas, a fantastic edge cleaning ability, a washable filter, fingertip controls, and awesome LED lights meaning I can easily see messes under tables and desks while I work.
One of the biggest problems I've had with previous vacuums has been suction, they lost it all the time and constantly got clogged with hair, fur and dirt. Pets and eight humans don't exactly leave an area super clean. Consider also that Risi eats over carpet, yeah.. lots of stuff this vacuum has to clean up, and you know what? It has been up to the task EACH and every time I've put it to use.
Just yesterday I sprinkled baking soda with lavender, tea tree, and peppermint oil on Var's bedroom carpets. Why? Well… Var has issues with wetting himself at night and has done so on the floor too many times. I took out every last bit of bedding and soiled clothing he's been hiding *gag* and then sprinkled the baking soda mixture to sit for a couple of hours with his door closed.
When I was done vacuuming up the floor there wasn't a single trace of powder left. With my old vacuum I couldn't dream of doing a floor powder because I could feel but not see left over powder. Thank goodness for my Shark Rotator Powered Lift-Away, as it's allowed me to be able to deeper clean Var's room without having to shampoo the carpets (which will need done in the summer, it's too cold for that right now.
I don't usually buy too much into commercials, but I am happy to be a Shark vacuum owner now!
What is the best vacuum you've ever used? Are you in the market for one now? I would highly recommend trying a Shark Rotator Powered Lift-Away! They have a 60 day money back guarantee, and are offering a free steam mop with purchase (if you buy online.)