Disclaimer: I was sent the following art work in order to facilitate my review, still all opinions are my own unless otherwise stated. Usually with things within quotes, or directly saying that studies/research/something says/shows any information I offer other than my own or that of members of my household. Thanks for understanding!
When I was first contacted to do an art review, I wasn't so sure what to think. Should I do it? Was it legit? Could I really find anything I'd like? After countless hours of searching, I finally found a piece I loved just for me.
Now, originally I was just going to hang the piece up in my bathroom. I'm obviously really bad at estimating sizes when I see them in text, and thought that surely the piece I picked would work just fine. Hmmm, nope! It ended up far larger than anticipated, but finally gave me a good color scheme and general theme for my living room! Finally, I feel as though I have a good direction to decorate this space!
Fulcrum Gallery's selection of contemporary art is astounding! Though having such a large selection can make it difficult for the super picky like me, but the navigation is easy enough that eventually I was able to narrow things down and find the piece that I love. I also found some beautiful pieces my mom would love.
I am far more a contemporary art lover than I am a lover of modern art. Modern art is why at the end of the day I choose to merely call myself an illustrator, because I simply 'don't get it' when it comes to a lot of what a local art teacher (the reason I quit trying to do art at the local college!) considered amazing! *ahem..*
Well then… on to the actual artwork, right? 😉
I didn't want to take a picture too close of this piece, not because it isn't beautiful, but I wanted you to see the size of it.
I'm sure you're not overly surprised I picked something in a Japanese/Asian theme for my piece, right? Of course not! After searching through so many pieces of art I finally decided to try and find something beautiful, simple, and Japanese… at least Japanese inspired anyway.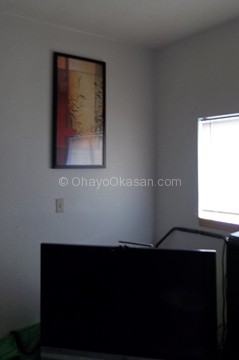 Now, seeing as our house is a rental, we have white walls, well for the most part, some parts have this wood looking stuff and we have some brick here too, but a lot of white. Tons… and tons… of white. Originally in this space back behind the TV (that's it in the floor) I had a piece that I'd drawn for an art class a few years back. The thing was that my piece was in graphite, making is grey scale… Not the best fit when you're wanting something different than just black and white in a room.
Our ceilings downstairs are about 10 feet tall, maybe a little bigger. What do I know, I'm short! 😛
Still, lots of negative white space that is just… boring. This piece ties well into the black couch, black shelves, black tv, and black curtains I have over one window. (Obviously need another set.)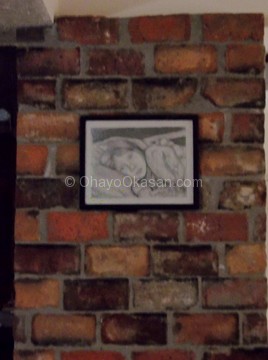 I moved the piece I did of Lisi (in graphite a few years ago like I said) over onto the brick wall we have. I think it works better here, and mellows down some of the colors of the brick. Plus… well… I like showcasing my own work at times. 😉
I can't really think of any particular cons for this piece, thankfully the Fulcrum Gallery has the second in this series, which is called Garden Dance. I think Garden Dance II will look beautiful over on the other side of that window, breaking up more of the white. Plus the colors in the piece itself will help me add just enough of a color accent to the living room not to be completely black and white.
The black frame ties it in with my furniture, and the colors work with the brick wall off to one side, and really accent nicely the rest of the room. Breaking up the monotony and helping my general mood when I am in here.
I never realized the powerful difference a good piece of art could do to a room in a house, I wasn't really the type to hang posters when I was younger… so I guess it never really clicked with me!
I love this particular artists work, and the Fulcrum Gallery has enough offerings that I can really use down here. Making me happy! Of course they offer tons of other works of art that will work for other rooms in the house, and I can't wait to finally decorate and make the house feel more… homey, (yo yo G!… okay okay I'll stop!)
*ahem..*
Do you have a particular art style that you love? A particular artist or color scheme? I'm so happy that Fulcrum wanted to work with me and I've discovered a bit more of myself and my style!
If you could pick anything from the Fulcrum Gallery, what would you pick and why?