Disclaimer: We received the mentioned products in order to facilitate our review, no other compensation was gained for writing this post. All opinions are our own unless otherwise specified. Thanks for understanding!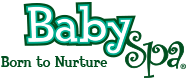 I've got yet another awesome BabySpa product to talk about! 😀  BabySpa items are Hypoallergenic and Dermatologist tested. They're between 98-100% natural and completely free of Parabens, PEGs, SLS/SLES, Phthalates, BPA and mineral oils. Basically, they're some really awesome stuff! You can use their Stage 1 line of items for Newborns to Crawlers, and Stage 2 items are great for Walkers to 4+ year olds. Yes, that includes adults!!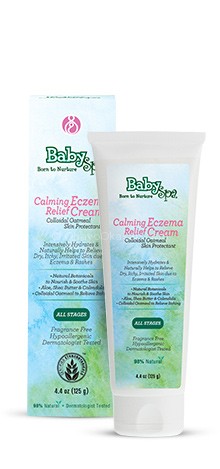 I am going to talk about the BabySpa Eczema Calming Relief Cream that I got to try with Risi. Who.. while doesn't have eczema as far as I know, does indeed have Cid's extremely sensitive skin.
I noticed lately that Risi had this strange patch on her foot that I wasn't sure what it was from. Likely just the way she crawls… but I've seen similar on Cid before.
Hmm, actually, now that I googled pictured, I would say that what was on her right foot is very similar to eczema! Anyway, a typical 'rash cream' wasn't doing much for it, so I ended up pulling out the Calming Eczema Relief Cream and giving it a go. I was pretty surprised at how strange the top of her foot felt, and wanted to help her feel better faster. 🙁
The consistency of this cream was very similar to the baby lotion from BabySpa, which is my favorite lotion to use to give Risi her 'toes' time. Aka.. a foot rub! So I merely told Ris that I was going to do "toes rubs" for her and went ahead to use this cream on both feet. Just for good measure since I didn't want the same thing to show up on her left foot from crawling.
While this cream didn't take the issue away in the first use, it did make it much better and further applications have greatly reduced it! I'm sure it'll be gone soon as long as I continue to keep up with this calming cream for her.
I've loved every BabySpa product we've tried so far! I'm so thankful that we get to work with them and try products I might not have ever heard about. 🙂
We also super love the unscented massage oil that I use to give her rubs on more than just her toes/feet. 🙂 It's a special bonding time for the two of us. 🙂 I also don't mind the feeling of it on my feet… even though it is supposed to be for her. >.>
You can now get BabySpa items at select Walgreens AND at Walgreens.com! Which is pretty awesome if you ask me! I haven't checked my local Walgreens, but as soon as I need a new BabySpa item (I'll need more of the moisturizing lotion soon!) I will be checking it out for sure. 🙂
Here is a little more about BabySpa, from them. 🙂
BabySpa is an award winner many times over:

·         2013 Trailblazer Award for product and innovation – named one of the top HBC companies of the year by Grocery Headquarters magazine

·         PTPA Winner's Seal of Approval – Parent Tested, Parent Approved is North America's largest parent tester community of over 40,000 parents following strict quality standards

·         Gold Seal from The Mom's Choice Awards – awarded for excellent quality and family-friendly approach by MCA, who help shoppers navigate products and make informed decisions

·         Seal of Approval, The National Parenting Center – the TNPC awards program recognizes the finest products available for parents and children.
Do you have a favorite brand of products you like to use on your family? I never really did before, but being a blogger has really opened my eyes to a brand new world of things that I never knew existed! I am so happy to have found the wonderful line of BabySpa products for us.