Disclaimer: I received this Prize Candle in order to facilitate my review, no other compensation was gained in writing this post. All opinions are my own unless otherwise expressly specified. Thank you.
I love the idea of candles with all sorts of awesome little prizes in them. But often I find myself completely overwhelmed by many scents used in candles. I was sent a Jasmine Neroli scented candle from Prize Candle and was pleasantly surprised at the very gentle, subtle scent of the candle. When lit the candle wasn't too strong, and when just sitting here it's not that strong either.
The candles all come in this pretty white and pink striped box, but I have to say whoever decided on a yellow sticker with white text, and then a white sticker with hello text really needs to reconsider their choices.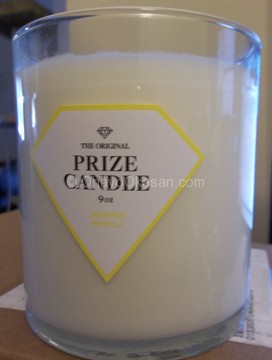 I found it difficult to read the name of the scent on the box and the candle, this particular shade of yellow isn't really the best choice. But looking close enough I was able to read it.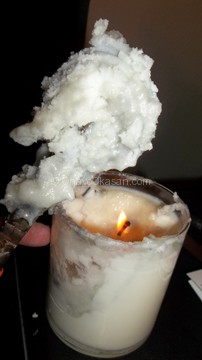 After a few hours of burning I really did get impatient waiting to get down to the prize. I have to write reviews within a certain time, and I always feel rather pressured when it comes to doing the candle ones because I don't always have candles burning. So I did some digging to get to my prize.
Also… I was impatient, I wanted to get the prize darn it!
Out came some crafting pliers and time to start digging. It was hard to get the little prize pod out, some foam stickers stuck it to the side of the glass and it just did NOT want to come out.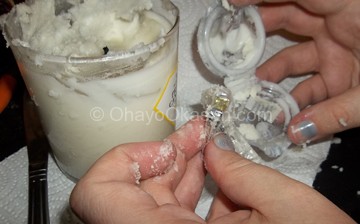 Then there is the problem of having to be covered with wax, even the little pod had dried wax in it. Hmmm.. Oh well! Thankfully the bag was still sealed and I was able to check out what the prize was…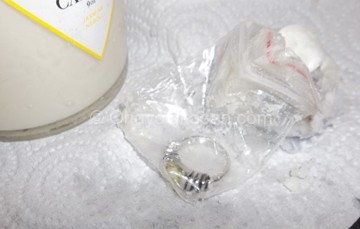 A ring!
The bad thing about rings in candles is… random sizes. There's rarely a size choice when it comes to getting a ring in a candle, meaning you never know if you're going to get something that fits.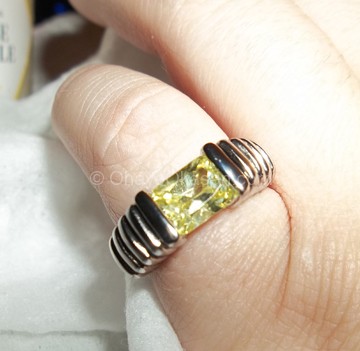 In my case, the ring fits my pinkie! Yaaay, but I ended up giving it to Sisi because it fit her much better.
Each prize in a Prize Candle comes with a little code that you put in on their site to find out the value of your prize. I think I'm unlucky because I got a $10 ring in this one like I have in another brand of 'surprise inside' candle I tried before. Ah well, it's till pretty! It just meant I couldn't offer the ring to Kat. Most low price jewelry contains Nickel, and since she has a Nickel allergy, we have to avoid jewelry with it in it.
She's gotten so good she can simply smell a piece of jewelry and know if it contains Nickle!
Still, the ring is pretty and now that I've put the messed up wax nicely back into the candle I have a lovely mellow candle that I can use to help it smell prettier over here at my desk. 🙂
Prize Candles cost $25 each, with $6 shipping on your first candle in the order and only $1 additional shipping per candle after that. 🙂
Have you ever tried any sort of hidden surprise candles? If so, what is your favorite?