It's been a pretty hard summer for me. I have trouble sometimes remembering just how to do this baby thing.
What with the kids being (almost) 14, (almost) 11, 9, and 8… and Risi being 9 months. I feel like a first time mother again, but without all the patience and time I had when Kat was a baby!
I feel just as stressed and overwhelmed now as I did back when I went from having one kiddo to having two kiddos. Risi isn't even near as fussy a little one as Sisi was.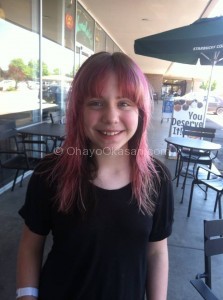 Sis, of course got the nick name "Bitchy Bear" when she was a newborn for a couple of reasons. 1.) She was very fussy in comparison to Kat… and that was all I had to compare a baby to!
2.) Ex-h didn't listen to keeping lights low and volumes low at night, so if he cared for her at night it was lights on and video games a blaring. Making her super difficult to get to a sleep schedule and sleeping at night. Her days and nights were mixed and damn it was difficult.
>.> Sis is still a fussier personality overall when compared to Kat. Though I wont lie, all of my kids have their moments when they've got a 'tude that comes from none other than me, or their dad, or just them.
They are all, in one way or another, so 'painfully' my children. Though also so very much themselves. It's interesting, at times, to see just how much the kids are me or their dad, and how much is just their own little quirk on being.
Kat has developed quite the personality since her surgery. I am pleased that she's more playful, happy, energetic, and less moody and lethargic. The other day I stress bought and then ate (some of) a bag of original Lays (yummmm….) but I got home and asked if she wanted them. Of course she did. "Good, take them." I thrust the bag at her.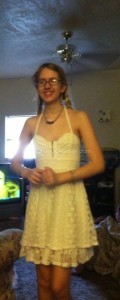 When she was done with some she asked what she should do with the bag, "should I put it in the pantry?"
"No, put them someplace I can't easily get to them."
"Oh, so you mean high up?" she joked, cracking a smirk at me.
"You little shit!" I laugh, "that was mean!" She's laughing too of course, "Well you said put them where you can't get them!"
… I realize I have no real point to this post. Just my general thoughts lately. I think part of me is feeling 'robbed' of my ability to be an adult without someone who needs my near constant attention. Where I don't have to be on guard constantly. You know?
With the ages the older kids are, I know they are all more than capable of handling their own breakfast (whenever it is they decide to wake in the summer and on weekends!) and all very well their own lunches considering their varying waking and breakfast eating times.
That's not so with Risi, and I'd gotten used to that freedom of just making sure everyone eaten with a general check of 'Have you had breakfast?' 'What did you have for breakfast?' 'Did you need help making something for breakfast?'
Now that there is Risi around (and has been for 9 months, why am I still fucking struggling with this?!) I have to balance that 'be on the babies schedule to take care of her' and still be on top of the schedules of the kids. Which in the school year will mean early school times for Sis, Var and Lisi at school at certain times, and overseeing Kat's high school education…. on top of having Risi.
I think I've doomed myself in some way… as I often don't know how to cope with all the directions I feel as though I am being pulled.
*siigh*
Var has had a particularly rough week, he spent two weeks with Ex-h (well he, Kat and Sis did..) and came back with the usual 'just got back from a visit with dad' attitude and state of mind.
Basically, he comes home and thinks he doesn't have to respect or listen to anyone, particularly.. he doesn't have to listen to or respect me. What gives???
I pay the kids for their chores and he argues over his chore every day. He starts fights and even hit Sis a few times the other day. It's like everything we struggle with here at home when he's here to teach him how to be successful in life despite his Oppositional Defiance Disorder goes out the window for anyplace from 3-8 days after getting home from a visit.
Some days, I really do just want to throw in that towel and give in. Tell his dad "fine, you're right, maybe he IS better off with you." But dammit.. I have no desire to 'give up' (usually) on my son, and to separate the things like that.
Yesterday in general surprised me. He respected his computer time limit (four hours… because there is only so much of listening to him voice chat I can do, and he needs to pursue other interests than Minecraft and Skype chatting his friends K, A, and F..), got his chore done all the way and by the set time (4:00 p.m), and even did a few favors for me without an argument. Thank goodness. It seems this round of defiance may be at an end… Sadly… I know it'll just happen again and again. Though I always hope that 'this time' will be less and shorter than the last.
He did another thing last night… he bought everyone a candy when he went to pick out the movie for movie night with Max (Lisi's dad and.. though we were never officially married a 'step dad' figure to the rest of the kids. He even cares about Risi, and bought her a Christmas present!)
Even Cid! Who he headbutts with… I think they're both Alpha's… and sorta 'tudey' shits who need to stop having their little 'penis fights' *as I call them* and learn how to use their awesomeness for good.. >.> Anyway, he still bought him a candy, and though it seems as if he doesn't like him or pay much attention to him and what he may like… he (Var) actually got him (Cid) one of his favorites (if not his absolute favorite) candy! A box of Reese's Pieces. Wow…
For me he got me a small (3 pack) of Ferroro Rocher. Yayy. 😀 Sisi got Sour Patch Kids gum from him, and Kat some Tic Tacs. Lisi said that she'd pay for her own candy and Max's candy, because "He was paying for everything else and I didn't want him to spend all his money."
Still… I started crying when he presented me my candy, and asked where Cid was (he was at the store with Ris to pick up some groceries… I couldn't muster up the ability to leave the house again!) before putting his (C's) candy on my desk to wait for him to get back.
Var seemed confused about why I was crying, and I told him it was just because him thinking about us was so sweet. Really, when any of the kids spend their 'hard earned' money on any of us that isn't them, with no expectation of a repayment… it makes my heart happy and makes me cry. Somehow… I must be doing something right in all of this mess.
Oi! I've rambled like crazy today haven't I? I think I'll leave this for now and wish you all a wonderful weekend! I have some awesome items to review that I've got to get up!
Ah! Risi is awake from nap anyway, so it really is time for me to go.
Ja matta ne!