Disclaimer: I received the following Beauty Box Five package in order to facilitate my review, all opinions are my own unless otherwise specified.
Another month….
Another Beauty Box Five box!! Yay!! I never suspected I'd be the girl excited to get new makeup!! But here I am every month excited to try my BB5 supplies!
I didn't realize how bad this picture was until I'd uploaded it.. and discovered the terrible truth that it's not that great! Sadly, I've used products that I can't take pictures of (the collectin calming kit and the shampoo & conditioner) so this picture will have to do. 🙁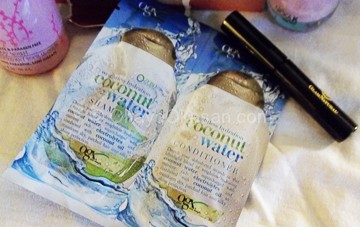 So here we go! The items plus my thoughts! Remember, 1 -5 with 5 being the highest rating!
Nicka K New York – Nail Color: 4   ($4.99 for 0.5 fl oz)
We got the light purple color and I used it on Lisi first. It went on smooth, and the short brush DID make it easier to apply than longer brushes. But… the coverage wasn't as long wear as I was hoping. After helping Aussie and I clean Kat and Sisi's room, one of her nails did indeed have a chip. Still, overall it did really well. Probably would last longer on me than a little kiddo!
I am liking that it's formaldehyde-free!
Organix – Coconut Water Shampoo and Conditioner: 4.5 ($7.99 for 13oz)
I have a very love-hate relationship with shampoo and conditioner samples. With the length and pickiness of my hair I never get ENOUGH conditioner from these things. Then again I may be using conditioner all wrong.
I love x300 the smell of this! It made my hair smell like a Mounds bar (love coconut!!) and, though I was skeptical due to the annoyance of my hair that badly needs me to do something to it… made it surprisingly soft! Aside from the fact that about another half packet of the conditioner would have helped the lengths of my hair I was pleasantly surprised with this conditioner! Yay!
I don't think I've ever tried a sulfate-free shampoo or conditioner before, unless I already do and I don't know it. But… I am really very pleased with this.
I think I know my new shampoo and conditioner combo!!
Glam Natural – Mascara – Black: 4 ($28 for 0.25 oz)
Okay okay, I would give this a pure out five IF it was waterproof. When it comes to mascara I am a water proof kind of girl!
gluten-free, paraben-free and hypoallergenic, this mascara feels gentle but does a good job of making my lashes beautiful!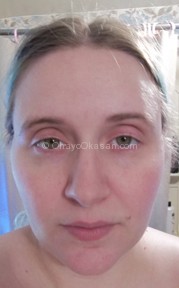 Before… my lashes are kind of pale/blah…
After… yes, usually I DO wear eye-liner when I put on mascara… but for this obviously I wanted to show what I did WITHOUT the use of eyeliner. Not bad really! Sorry the picture is small, I didn't mean for that to happen. :/

Eyes closed, very nice! I obviously put on something for my dark circles and lids… but other than that (and adjusting lighting.. uggh…) I didn't touch up the picture at all. I love mascara… but the price tag might be a little scary if you're used to paying less!
Eslor – Introductory Collection Calming Kit: 4
This was a sample pack with a Soothing Refiner and Cleanser ($28 2 fl oz), Replenishing Scrub ($28 1.7 fl oz), Comforting Mask ($38 1.7 fl oz), and Soothing cream ($65! 1.7 fl oz.)
All in all, I did really like the products, but it's really hard to get a good feel of a facial product that's supposed to be used over time with little sample packs..
The price tag for the entire kit is enough for me to knock it down a little bit, as I just can't see myself spending that much on a facial calming kit when my face doesn't really need it too much.  I will say over all that the group does make my skin feel softer!
Vita Bath – Body Wash – Pink Sugary Frosting: 5.5! ($7.95 12 fl oz.)
Yeesss… I know, I rated it above 5 stars. But I LOVE this. This body wash lathers beautifully, smells delicious, cleans well, makes me skin feel soft. I DO think it smells good enough to eat, and it leaves me smelling lost pink frosting, delicious!! Even Cid agreed that it made me smell like frosting. Yumm~!
The price is right, the smell is right, free of propylene glycol, mineral oils, and silicone. This is going to be my new body wash of choice!
I love getting to check out great beauty subscription boxes. Do you have a favorite that you subscribe to?