Disclaimer: I receive a Beauty Box 5 monthly in order to facilitate my continued reviews. No other compensation is gained in writing these. All opinions are our own unless otherwise stated.

Like every month, I get a lovely little package in the mail, a Beauty Box 5!
This is one of the wonderful beauty subscription boxes that you can subscribe to for a pretty darn low price!
Like always these lovely boxes come with sample or a full sized product for you to try out, and information on how to buy them. Including their current retail price and what comes at that price.
Beauty Box 5 boxes cost $12 a month if you do monthly payments or you can pay for a year for a reduced cost.
This time my box came with the pictured items: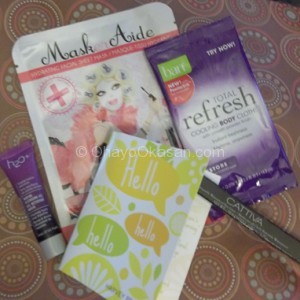 What you see above is a MaskerAide – Hydrating Facial Sheet Mask, H2O Plus – Aqualibrium Marine Cleansing Gel, Ban – Total Refresh Cooling Body Cloths, Harvey Prince – Hello perfume, CATTIVA – Precisione Eye Liner.
Here's what I think of all of the items in May 2014's box!
MaskerAide – Hydrating Facial Sheet Mask: Current Retail – $5.99 per Mask.
Score: 4/5
The only down side to this mask is that it feels sticky and gooey and I really wasn't comfortable at first. It says you can keep it on for 10-20 minutes, and I gave up after 17. You can either massage the left over stuff into your face, or give it a light rinse and pat dry. I rubbed it in the best I could, but I felt so sticky that I gave myself a little bit of water and a pat dry out of desperation. The included card for the box mentions that these 'aren't messy at all' but I think that being covered with goo for a bit and having to touch it.. the way it kind of is oozy on the way out of it's pack is a bit gross and messy. Still, they could be far worse! This will be something I'd likely only use on a monthly basis. It says weekly, or daily, but at $6 a facial mask… I'm not thinking so.
A GREAT point about these is that they're paraben-free, vegan friendly, and they're 100% biodegradable. So you wont feel overly guilty just tossing this in the garbage when you're done.
H2O Plus – Aqualibrium Marine Cleansing Gel: Current Retail – $18 for 120 ml.
Score: 5/5
This one seemed to have a little bit of glitter in it, but not too much. It also didn't have anything of a noticeable scent. Which I like in my face washes! Gentle, little to no smell, and feels good when I use it. This wash will soon become a staple in my bathroom. But it'll be a use once or twice a week type thing, but that's only because I don't like to do over my face too often.
Ban – Total Refresh Cooling Body Clothes: Current Retail – $2.97 for 10 Cloths.
Score: 6/5
Yes, yes, I like these THAT much that they're going to be getting a 6 out of 5! Yes, they're that good. Super cooling, pleasant scent, overall lovely. Summer is coming and I will be keeping at least two of these in my purse at all times to refresh myself when I feel nasty as heck and covered in sweat!! Probably great for after a workout, but since I haven't really done much working out lately. I couldn't tell you. I will have to give that a shot. 😉
Harvey Prince – Hello: Current Retail – $55 for 5.7oz
Score: 3/5
Okay, I should get this out in the open. I VERY rarely like any perfume. They usually are too strong and give ma headache and this one wasn't much of an exception. I do like the overall scent, but something about the chemical composition of this kind of thing just gives me an aching head and a unhappy feeling. 🙁 I gave it a 3 because I like the scent, but since it's expensive and has the usual 'perfume headache' effect on me I had to take of 2 stars. Sorry, my personal opinion though! 😉
CATTIVA – Precisione Eye Liner: Current Retail – $20 for 0.012 oz.
Score: 5/5
Heck yeah!! I've been able to find waterproof mascara but I haven't really found a good waterproof eye liner! This is it! I balked a little at the price tag, but thank goodness this is a full sized item and I will be able to use it until it's gone… or until the standard 1-year to get rid of make-up type deal. Still, I love this eye liner and am glad they gave it to me in black because that's pretty much the favorite color for me when it comes to eye liners. Holds up when I sweat, and I put it to a cry test too. Yay! It's a waterproof, retractable eye liner that I've decided is a must have for me from now on!
Have you tried Beauty Box 5 yet?? If not, why not?!