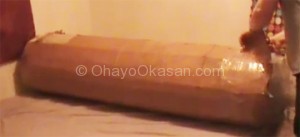 Remember how I wrote about my Amerisleep Liberty Mattress awhile ago? Well, I didn't realize how much I could miss a mattress until I was in the hospital with Kat! Sleeping on the bed in the family center wasn't too bad, but it a was a typical spring mattress and I swear I am so hyper sensitive I could feel every last tiny spring.. Yeowch!
After that I was to sleep on this little hard sofa thing that couldn't have been even as comfortable as Risi's crib mattress. YIKES!
When I got home getting to sleep in my bed again was amazing.
I am looking now to get a new mattress for Kat, and just found out that they'll be having an awesome sale on Memorial Day weekend!
Starting May 23rd and running through May 26th Amerisleep will be having a sale for $250 off all mattresses PLUS free shipping on your entire order! 😀 Meaning I have even more ability to buy a new mattress to make sure she is as comfortable as possible at night now that she's on the mend still. Tomorrow will be 3 weeks post op!
They also have a referral program, so if you want to go ahead and put my name in (Kisa at Kisarune@msn.com) that'd be awesome. Then you could share the news with your friends, have them use you as a referral and you'll get $50 off your next purchase from Amerisleep.
Do you have a mattress you absolutely love? Love to hate? LOL
Have you checked out Amerisleep for memory foam mattresses at all? If not, why not? I couldn't imagine sleeping on any other mattress again.