Disclaimer:  The Red Robin information and gift cards have been provided by Red Robin. We were given a gift card to experience Red Robin and their interactive menu! Thank you Red Robin!
Red Robin (Yummm!!) has many things to introduce this month!
May is National Allergy Awareness month and Red Robin has made things easy with their awesome new Interactive Allergen Menu available on their website, as well as their mobile app that I was able to download on my iPhone.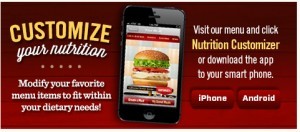 It can be hard to eat out if you have a food allergy, not every restaurant has an easy way to figure out what you can and can't eat. Making it just a pain in the rear to look through every last ingredient… if they even LIST all the ingredients… just to make sure you can eat something!
Beginning back on May 12th, Omission Pale Ale (which is a gluten-free beer!) became available at participating Red Robin restaurants nationwide. Red Robin believes it is important for Guests to have options and information to make educated decisions and is offering Omission Pale Ale on its Interactive Allergen Menu.


I forgot to download the app myself before arriving, and when I asked if they had anyway I could look at it at my local Red Robin they said unfortunately not and I'd need to use my phone? However I have heard that you should be able to get assistance from a Team Member on a restaurant-provided tablet as it would have made it so I didn't have to wait forever for it to download without Wifi on my mobile. My bad for not remembering to download it on my phone before hand though…
Of course I did look at it on my home computer a few days before going, some very … um… personal issues happened at home and delayed our getting to experience the menu.
Information about the Interactive Allergen Menu:
Red Robin's Customizer Hub on RedRobin.com allows Guests to test-drive different combinations of ingredients and enjoy their Red Robin menu favorites while keeping within their dietary restrictions. The Customizer Hub gives guest two options: "Customize Your Nutrition" and "Build a Customized Allergen Menu."

Red Robin's Interactive Allergen Menu provides order recommendations based on guests' allergies and allows them to view a menu that is tailored to their specific dietary needs.

Red Robin trains all restaurant Team Members to allow guests to modify their Red Robin food or beverage order to suit their taste or dietary preferences. If a guest has a food allergy, the Red Robin team member will ring in the order with an allergy alert and bright type so it is clear on the table order.

This allergen alert appears in easily noticeable bright, red and bold letters on the order and notifies the kitchen that a special allergen kit is required for the order. Red Robin uses allergen kits to prepare all allergen orders. The kits include tools that are for use on allergen orders only and are purple to clearly distinguish them from other kitchen tools. Purple is the color of Allergen Awareness.

Red Robin provides the guest with information so they can make an educated decision on what to order themselves, whether it's for food intolerances or food allergies.
One thing that really helped with the experience is I didn't really get treated oddly or looked at with disdain when going over the allergy menu and making changes. Red Robin offers Gluten Free buns to make your burger Gluten Free. Of course they also have the option of a lettuce wrap for your burger if you'd prefer to avoid even a gluten free bun.
The allergen menu even allows you to find out which sauces and dressings you can have depending on  your ingredient(s) to avoid selected. Letting you know before hand (or even during with the app which is available on iOS and Android) what options you have for going out to eat.
Currently you can select to avoid Milk, Eggs, Gluten, Wheat, Fish, Shellfish, Peanuts, Treenuts and Soy. A fair bit and it goes from there to weed out what you can't eat, and offer suggestions of what you can put in place of certain things that normally come on the meal/item to go along with your needs.
Information about Red Robin:
Red Robin Gourmet Burgers has been the Gourmet Burger Authority since 1969, when the first Red Robin restaurant opened in Seattle, Wash.

Now, with 500 restaurants across the U.S. and Canada, Red Robin offers craveable, high-quality menu items for families and burger lovers alike.

Red Robin was founded on four core values: Honor, Integrity, Continually Seeking Knowledge and Having Fun.

Red Robin has a long-standing tradition of customizing meals to order. The ability to customize and make food feel personal is important, and customization is part of Red Robin's DNA.
Have food allergies affected your family's ability to dine out together? Do you ever go to Red Robin? How would the the Red Robin Interactive Allergen menu help you enjoy eating out again? I know that having help with menu choices in the form of an app like this really did make the whole eating out experience not near as daunting as it could be!
Right now you can enter to win a $25 Gift Card to Red Robin! 😀
U.S only, 18+ and no P.O Box addresses allowed sorry.
You have until May 30th to enter to win!
Minna-san, ganbatte ne!
a Rafflecopter giveaway
You can follow Red Robin on Facebook, Twitter, and Instagram!  Yummmm!!