Disclaimer: We received the following product box in order to facilitate this review, no other compensation was gained for writing this post. All opinions are our own unless otherwise stated.
The Nerd Block Jr. Boys box is a monthly subscription box that sends an assortment of nerdy boy toys to you for just $14 a month. They're aimed at boys ages 6 – 11 (there is also a girls version, an adult version and a horror box!) and are pretty darn cool.
Var got a Nerd Block Jr. and was instantly in love with a couple of things from it. Here is what was in his box.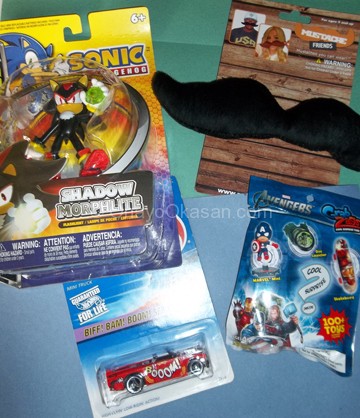 Shadow figure from Sonic the Hedgehog, GIANT black plush mustache, a random Avengers thing, a Hot Wheels Car…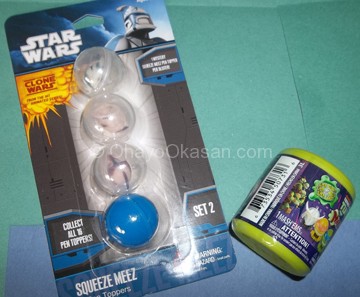 Star Wars pencil topper squeeze meez things, that.. are.. still in the package since he's not a huge Star Wars fan, and this squishy Ninja Turtles head. Which he loves to mush and make mouth noises about.
The Ninja Turtle, Giant Mustache, and the Shadow Figure (who lights up) are the best things in the box as far as Var is concerned. He loves the Mustache so darn much that he even took it to his show and tell day at school and I have to admit I rather like the mustache too. Even if it's super massive. I will admit that I've worn it myself. Hah!
Var has never really liked hot wheels toys, so it is still in its package (thank goodness because I wont step on some random car that is out and about for no reason because it has been opened and ditched….), and so are the Star Wars things. But I am sure I can find a male relative that would actually enjoy them just fine.
Overall this is a pretty cool box, but I wish they had an option to pick dislikes and likes so the box could be a little more customized and avoid any misses like in this case.
I love the idea of the normal adult Nerd Block, and the new Horror Box sounds cool as heck. Likely something that would fit in with Var a bit better as he likes that kind of stuff.
Do you subscribe to any monthly boxes? Have you found any targeted towards kids that you absolutely love?