It's not secret that Kat has been suffering from Scoliosis for too long. Even though we first realized it late last summer, I should have checked her back as soon as she mentioned she had pain back last school year. I went from thinking it was posture, backpack, sleeping positions… to realizing I needed to see why she had this constant 'knot' in her back. When I first checked and had her bend over, I felt like a failure.
Right away I knew what it was… Scoliosis. It progressed pretty rapidly from when we actually started getting it looked at by doctors and things (and trying chiropractic care just made her pain worse…) and we ended up going ahead with surgery. Lo and behold when they called me to schedule, a cancellation meant that she could have surgery in one week… One… week. Dear gods, neither of us had enough time to prepare I think!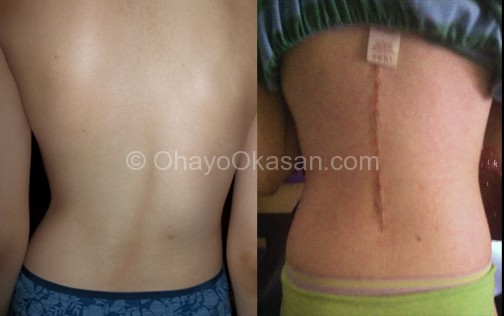 This is a before and current shot of Kat from behind, just to see how much progress she's had!! 😀 Her Scoliosis was really bothering her back and balance, so last Wednesday she went in for surgery. Her scar looks great and look at her waist! She's a bit more balanced on the curve even though she's not standing perfectly straight yet.
As she heals, we can work on the muscles and strength. Right now it's rest, eating as good as she can, walking, being gentle on herself and just recovering from a major surgery.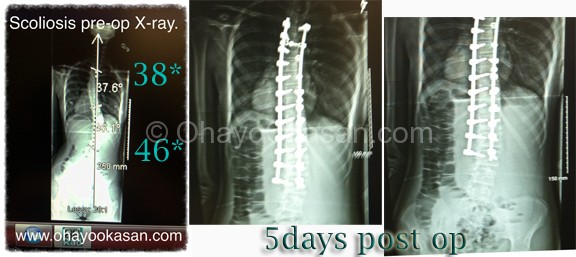 As far as spinal fusion for scoliosis goes, I have to say I am super happy with the results of her surgery. One of the people from the hospital called yesterday to see how her first 24 hours at home went and said that Kat's progress and general overall being at home was the best update she's ever heard.
Kat is really doing well, and was super happy to come home. I'll post more pictures of her back as things heal and we progress through time. I think for under going a surgery like this, and having scoliosis the way she has.,.. Kat has been really awesome. I couldn't imagine her feelings are any better than mine, in fact I really bet it's been worse on her.