Tuesday was Kat's Pre-Op day for her spinal fusion, which is the scoliosis surgery she needed. I'm sitting here today (Saturday) writing this as she sleeps in the recliner, Sisi draws in a chair at her side, and Law and Order: SVU on her list.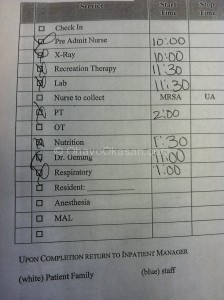 The above was our schedule for that day, we got into town early and had tons of things to do. Re-admit and then X-rays.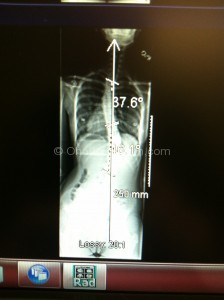 It's a crummy cell phone pic, but in the above you can see her spine before the surgery. 38* and 45* causing some problems with her lung, shoulders, waist, and balance. You can see how it throws off her neck too. 
I got a smile as we waited to see who we were seeing next, she got to see everything that would be put in her tube wise. IV's and such.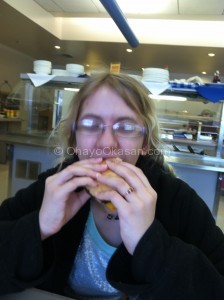 Lunch break! Woo a burger. 🙂 She ate but didn't really enjoy the fries.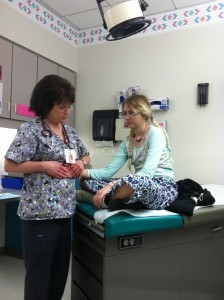 Here she is with the respiratory specialist to get an idea how to take good deep breaths for after the surgery.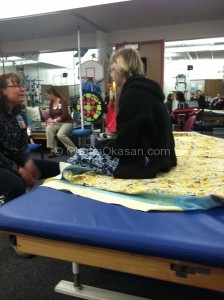 Time for a PT evaluation, talking about how she'll need to get out of bed in the future.

Please hop on one foot to the box and back, just checking her balance as she went.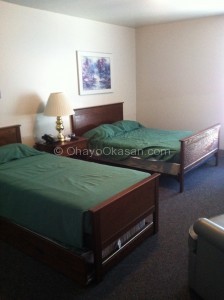 This is our room in the family center, a hotel like building behind the hospital. It was nice to have a place to stay in town so we didn't have to go ahead and drive back to Spokane here at about 5:00 AM to make it for our 6:00 AM surgery time on Wednesday.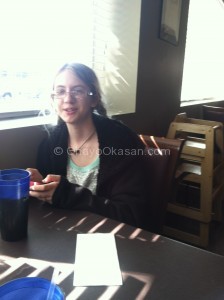 For her final big meal before surgery Kat wanted sushi, so sushi we went!!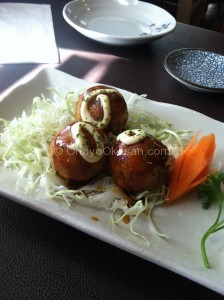 Takoyaki as an appetizer!!
It was too hot inside and she popped the entire one in her mouth and bit into it! Whew!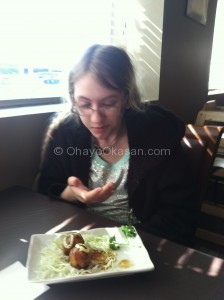 Ah hot hot!!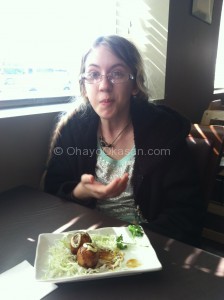 Hard not to laugh at yourself when you throw it in there all crazy like that!
After sushi we had lots of time before the parking meter ran out, so we went to the bookstore just a little away from it. Looking for books is serious business, though I love this picture because she looks so bad ass, like she's super angry. Just thoughtful and caught at right moment! 😛
After that we went back home to pack everything, see the rest of the kids and then head back to town to relax. We had orange smoothies on the way back to town and let her snack a little as she wasn't allowed any breakfast.
Wednesday was the surgery, which we'll talk about the next post.