Disclaimer: We received products in exchange for our honest reviews, no other compensation was gained in writing this post. All opinions are our own unless otherwise specified.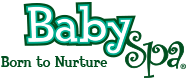 We're celebrating Earth Day as well as just general love of taking care of our baby in a more natural way with BabySpa's wonderful lineup!
This month we're talking about their Ultra Soft Baby Wipes, which we've been given the chance to review.
I allowed Cid to form his own opinions on using them when he got a chance to change Risi, and this is what he thinks:
Cid – The scent is mild, most people probably wouldn't even really notice it. A good, welcoming fresh scent though, without the lab-chemical undertones present in a lot of other name-brand wipes.
The texture is the biggest difference. They're very soft, and Risi seemed to like it; other wipes tend to have more of a pressed-paper-mulch feel, while these have a woven-cloth feel. At first I honestly thought it was going to fall apart when I was using it, but it held up, nice and strong.
Kisa – I will be honest to say that I didn't think these could feel as nice as they do! I thought they'd feel rough and uncomfortable and I just wouldn't really like them. When I usually think of things that are biodegradable and organic I think of scratchy things that aren't going to feel that great. Like the time I tried using 100% recycled organic paper towels and they were terrible. I was surprised to find a very nice wipe that was soft to the touch but strong on the job. You know how bad a substandard diaper wipe can do in a tough dirty diaper situation, but these ones did great! The scent isn't a bad scent or strong at all. It doesn't bother Risi's skin and it didn't bother Cid's very sensitive skin which are major pluses. I will use this on occasion to wipe my own hands down if I need to, but I try and stop myself so I use them more for Miss Ris!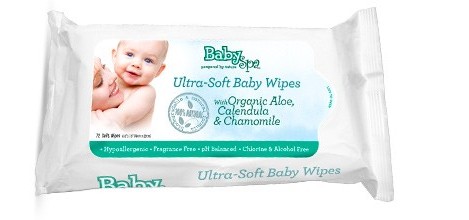 5 Unique Features of BabySpa:

1)  BabySpa is Hypoallergenic/Dermatologist Tested,  98-100% natural and 100% free of Parabens, PEGs, SLS/SLES, Phthalates, BPA and mineral oil .     

2)  Products are made with exclusive ECOCERT-certified therapeutic ethnobotanicals: BabySpais the only baby care line to offer ethnobotanicals, plant-based organic ingredients traditionally used by ancient Native Americans, and virgin oils from the Indonesian and Pacific Islands.  And the ECOCERT certification guarantees BabySpa's commitment to organic farming, environmental stability & sustainable development.

3)  Innovative Stages approach: Unlike a "one product for all" approach, BabySpa's two stage line is specifically tailored to meet a child's changing skin care needs to hydrate, heal & protect.
Stage 1 – for Newborn to crawler
Stage 2 – for Walker to 4+ years old
All Stages – specialty products designed to heal, protect and pamper

4)  It's more than just a skin care line: BabySpa offers biodegradable & organic wipes, a Calming Eczema Relief Cream (awarded the Seal of Approval from the National Eczema Association), herbal insect repellent, chemical-free sunscreen, alcohol-free baby cologne, and more!

5)   BabySpa is an award winner many times over:
2013 Trailblazer Award for product and innovation – named one of the top HBC companies of the year by Grocery Headquarters magazine

PTPA Winner's Seal of Approval – Parent Tested, Parent Approved is North America's largest parent tester community of over 40,000 parents following strict quality standards

Gold Seal from The Mom's Choice Awards – awarded for excellent quality and family-friendly approach by MCA, who help shoppers navigate products and make informed decisions

Seal of Approval, The National Parenting Center – the TNPC awards program recognizes the finest products available for parents and children.
Next month I have another product to feature from BabySpa and I am excited to do so. Everything we've tried so far we really love and I am so happy to be working with them.
Do you use organic and natural things with your children? Would you ever used biodegradable wipes?