Disclaimer: We received one box in order to facilitate our review, no other compensation was gained for writing this post.
I'd like to introduce Darby Smart! A newer box to the 'Box Market' that features crafting supplies to do your own projects.
Darby Smart was launched in June of 2013 created by Nicole Farb, who had trouble at times duplicating projects on Pinterest, usually because she didn't have the right tools and materials to recreate them.
Darby Smart helps leading influencers (across fashion, décor and DIY) launch their design ideas. Darby Smart began with 10 designers and now has a yearlong designer waiting list!
I was excited to find Darby Box on my quest for interesting subscription boxes to review. Since I like to do crafts, but often fail to do them because I also don't always have the supplies. Or think about what to do and then completely forget one thing or another, I knew that Darby Smart was a great box for someone like me!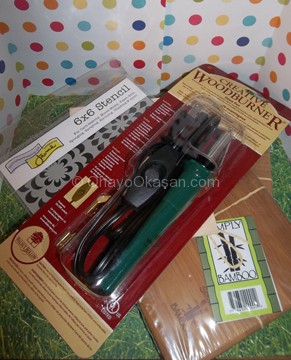 My awesome Darby Smart box came with bamboo cutting boards to do wood burning on. Now, I haven't done wood burning since I was Sisi's age. That was about 19 1/2 years ago. Yikes, so I was a little worried I wouldn't be able to do this very well. Granted I only did a very small project back then (5th grade and all..) I have wanted to do wood burning again. So what fate that I would get such a box!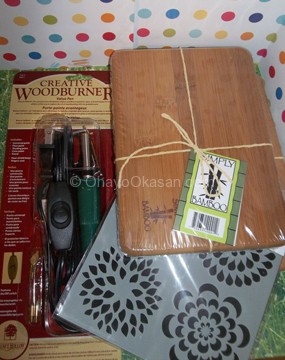 Two cutting boards, the wood burning tool (that has four tips), instructions and a stencil that I didn't end up using because I wanted to put my own design on it.
Since Kat was recently doing craft time once a week with my mom, but she had to stop due to my mom ending up needing to baby sit my sisters kids on all the days the kids and I were getting grandma/mom time, I figured I would take over and do something with Kat. So she got to do one of these cutting boards herself.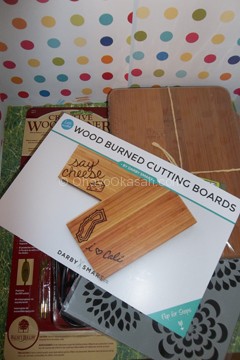 Of course we got instructions as well, on the back of the card you can see above.
I forgot to take pictures of our practice board, but we did get a piece of practice wood that we both tried out. My design above is based on a tribal heart tattoo but modified for my tastes. I was excited but nervous to give the project a go… Kat jumped easily right in though, and added one of her characters to her board!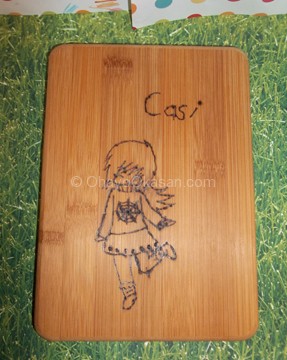 For a first timer I think she did a great job, it's her own little design and I hope something she'll keep and use even when she's all grown out and doing her own kitchen stuff on a regular basis.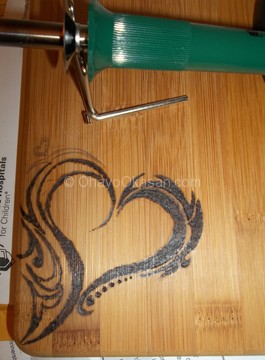 With a (one day shy of being…) 5 month old I had no choice but to work in very slow chunks on my project. Above you can see some progress of my design, before I made some mistakes that caused me to have to make a few alterations.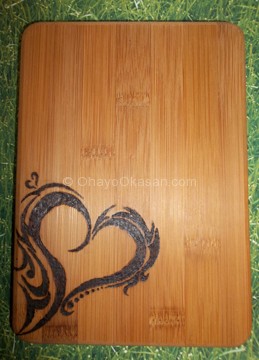 This above is my end result, you can see a couple of places I messed up so I had to try and go with it. In the end? Not too bad, I wish I would have had more time just to myself to get this done in one go and without feeling rushed… but what can you do when your a mom and you've gotta take care of a baby?
Anyway…
The Darby Smart boxes start at $20 a box, depending on project, and come with everything you need to do whatever craft you pick! The above box was the March To DYI For and I couldn't have been happier to get to try it out! The Monthly To DYI For boxes are $19 a month and are limited supply. But so worth it!