Disclaimer: We received the below mention products in order to facilitate this review, all opinions are my own, well that and the cat's too as much as I can tell what they were wanting me to know! No other compensation was obtained for writing of this post.
Sometimes I wonder if maybe we don't feed the cats healthily enough. While I am trying to get better at feeding us humans I thought about seeing if the cats would do okay with a change up of foods. I had looked into Newman's Own Organic's line up of snacks and things for us, and was happy to see they had food for cats as well.
The company was nice enough to send along two sample packs of their Newman's Own organic pet food for cats, since we have seven cats and all and a single sampler pack wouldn't really do enough.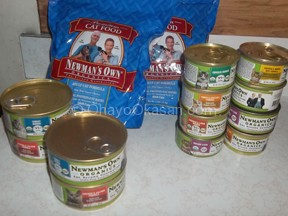 Yay for cat food! I was interested to see how the cats would take to it. So we started with the wet food as we usually serve all the cats wet food as dinner.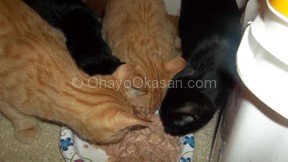 We went for the Turkey with vegetable, Liver, and Turkey dinner wet foods for the night. The Turkey dinner went over well with three of the seven cats. In the picture above you can see four of them smelling at it, but soon enough Mister Shadow walked away to go check the other ones.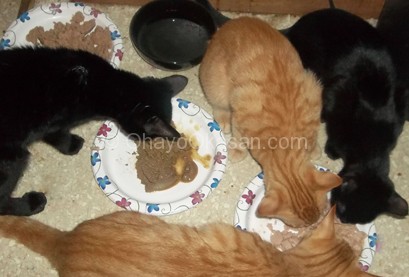 To me the liver cat food smelled so awful I wanted to gag when I opened it. I apologized to the cats as I was scooping it out of the tin and as I set it on the floor. To me it smelled like poop, and since I've never smelled liver before and didn't know what to expect, I will probably never want to smell liver again.
Above you can see Shadow sniffing at the Liver while Skeeks, Kimi and Midnight eat the Turkey Dinner. This was their favorite one out of all the ones we tried.
Shadow attempted to bury the liver and then walked away.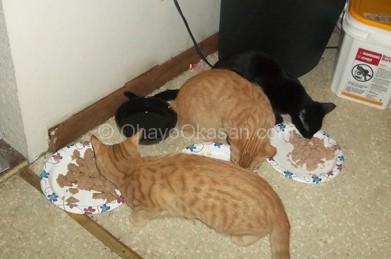 Kimi gave the Turkey and Vegetable dinner a small try while Skeeks decided he needed to figure out what the smell was from the liver. He too tried to bury the food. I guess the cats aren't liver people either.
Soon enough Skeeks went back to eating the Turkey dinner with Midnight, while Shadow stood looking rather annoyed at me offering him such things!
Kimi ate a little more of the Turkey Vegetable, but Skeeks and Midnight didn't like anything else.
Cookie, Tori, and Puuny ate the last of the Turkey dinner, and all tried to bury the liver and then looked up at me and demanded to know where their normal dinner was.
In the end I ended up giving them additional dinner of their regular food. On a separate night we tried some of the smaller cans of food, the chicken dinner went down well with the cats, but the Chicken and Turkey seemed to be the only wet foods any of them were willing to eat.
We later tried the dry cat food in the morning for breakfast. A few sniffs and nibbles and the cats returned to looking up at me and meowing in discontentment. Apparently, my cats are insanely picky!
In all, I would say that aside from the liver the foods smell fine, and if you have a cat eat it from the get go they will probably be far more used to the flavors with the vegetables or things like that. I will likely add the Chicken and Turkey dinners into the cats line up here and there just to get them something organic at times. But I don't think it's a good idea to cold turkey them into the organic food any time soon.
I wouldn't rule Newman's Own organic pet food out for your pets though! Yours may not be as picky *cough*spoiled*cough* as mine, and they may actually take on to it really well.
Have you ever tried organic cat food for your pets? Newman's Own carries cat and dog food and may be worth a try if you're looking for an organic alternative to food for your family pets.