Disclaimer: I received this organic crib mattress in order to facilitate this review, no further compensation was provided and all opinions are my own.

Risi quickly went from little baby to tall baby who doesn't fit in her clothes way too quickly! On top of this, it meant that she also was starting to be too long for her bassinet, which also provided a problem. I needed to figure out the whole crib and mattress thing.

And Fast.
I was researching the various types of crib mattresses (something I've never done before) there were and what my options were now! I wanted something better than the usual cheap mattress you could get at Walmart and since I am trying to incorporate more natural things into our lives. I was happy to find that you can buy an organic crib mattress, particularly the ones offered by Naturepedic. Who offer not only mattresses for cribs, but also for bassinets, kids and adults! They also offer bed pads (from bassinets to cradles, kids mattresses and adult mattresses), pillows, and more!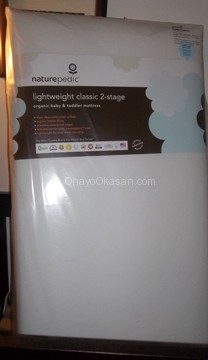 So on a whim I asked Naturepedic if I could review one for Miss Ris and they said yes! I little squealed like a happy school girl at that one! Risi would have an awesome mattress, and not just a mattress that was perfect for the baby stages, but an awesome two-sided organic crib mattress that flips over and has a softer side for toddlers.
There is even a tag that shows you which side is the infant and which is the toddler size of the mattress, means no guess work and no printed labeling or anything on the mattress. Which is good, as pretty as printed on mattresses and all that can be… I wonder sometimes if they're as safe as they could be with the paint and whatever chemicals go into the materials required to make the mattress.
This mattress is a lightweight model, meaning I'm not trying to heft around anything that's too much for me (since I'm in pain pretty often…) while still being waterproof, supportive, and high quality! The mattress has a core wavesupport(tm), organic cotton filling, and an organic cotton waterproof cover. Perfect for those accidental diaper leaks and great for clean up. Or even one of those times where your kiddo is sick and throws up all over the mattress, it's easy to clean and doesn't even have side seams that stick out like other mattresses. Meaning you can wipe all around with no scrubbing hard to clean out places!
The organic waterproof fabric that covers this mattress is so good in fact, that it meats food contact standards! You could eat off this mattress if you wanted. Err, but why would you want to?
Insert a sleepy baby and you've got a happy girl at bed and nap time. Originally I wondered if maybe the firm side was too firm, but Risi loves her mattress and sleeps from 9:00 PM to 7:00 AM for us now!
Of course the cats still love to nap with Risi too, and thank goodness this provides enough space that they're all not crowded in the bassinet with her.
This is the best crib mattress any of the kids has ever used, and I love the dual-sides that will allow Risi to have a softer mattress once she is big enough for us to convert her crib into a toddler bed.
Want more details about the good points of an organic crib mattress from Naturepedic? Read more on this awesome informational page!