I tend to have trouble when it comes to doing things for Valentines day. Of all the times I've been with someone on Valentines day the only person to really ever do much happened to be Max. Who did the most stunning Valentines surprises ever. Even when we hardly had any money, he used creativity and some goofiness to really make my heart melt.
I, on the other hand, got discouraged during my marriage to my ex-h who didn't appreciate any level of surprising and didn't do anything special… for any holiday… Leaving me feeling like I have no idea how to surprise or please anyone on holiday. Yeah.. Issues.
I came across a post over at 1 Fine Cookie recently for Chocolate Covered Strawberry Hearts filled with a Marshmallow Cream… Oh yea, you know it. I had finally something click!
These looked like the PERFECT Valentines surprise!!
Aside from the fact that Aussie doesn't really love Marshmallow cream, so I was going to leave that out, but that's okay because it's one hell of a great idea. I figured this was so much better than buying chocolate covered strawberries like last year and putting something together.
Everything else? Well, I slowly yet surely plotted but also kinda… didn't? We ended up doing our Valentines day shopping together (okay in the store at the same time, trying to avoid each other hah!)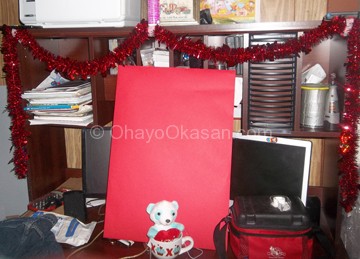 I know I wanted to decorate for him… but I wasn't sure how. I also suck at cards, but in the end found an absolutely perfect giant one! The coffee mug was intentional, but finding one with a blue panda? Talk about a sign right? This was the last one like this. I love pandas and I love the color blue!! Ah!~ So it's me, in panda form, in a coffee mug. So I can use my Hello Kitty one and he can have coffee too! 😀
So anyway! Strawberry hearts!!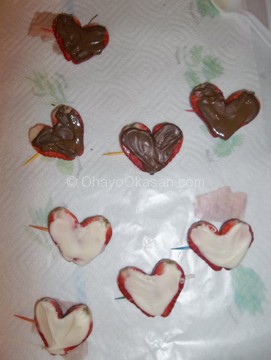 I did both vanilla coated ones and chocolate ones… as if the picture doesn't show this well… Mind you, we went to bed at 2:30am this morning (Valentines Day) and I woke up at 5:10 to start working. Gahhh.. I had to work with strawberries (I fruit I can't eat due to texture issues… so I wasn't 100% which were good to use and which weren't…) while absolutely exhausted.
Keep the cats from attempting to help (they really wanted to be on the counters helping,gah!) decorate his desk, and write a note in the giant card of doom.
On top of it all, the vanilla candy melts (Wilton's ones…) freaking hated me. I don't know what I was doing wrong… in the slightest, but the chocolate was awesome to handle!
In my tiredness I failed at making things beautiful like I wanted. I couldn't thinks straight on how to do pretty little wiggles (duh.. sandwich baggie with the corner gently clipped off?!) until I had finished and was laying down to sleep at 7:30… sadness.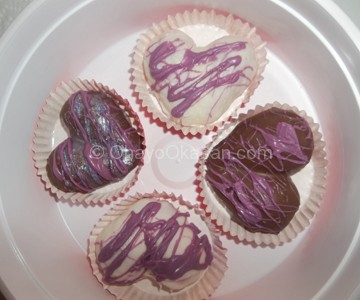 I checked into the Disco Dust stuff that Jasmin used, but the warnings that it was non-toxic but not meant for consumption pushed me towards using Wilton's pearl dust… which ended up not working out for me at all. Ugh. I thought I had thought everything through, considering I plotted this a little in advance. Sadness. I should have known how it worked based off episodes of cake boss. But I was hoping for the best. You see what I mean up there? The one chocolate one on the left side of the picture. I just… gave up!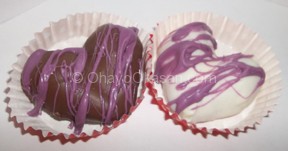 They aren't completely ugly, and he liked them anyway…(his favorite color is purple can you tell?) So at least I didn't completely fail this year…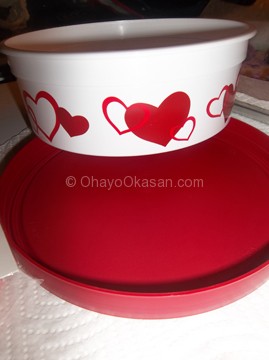 This is the basic container I put them in, I thought it was overall cute… but next year I just need to shop sooner!
Since Aussie was going to get the kids Chocolates this year I decided just a small plush for each, thus the owls above… Can you tell where I failed yet again? There are only four! Uggh… there weren't five different types and I didn't even think to get one for Risi. 🙁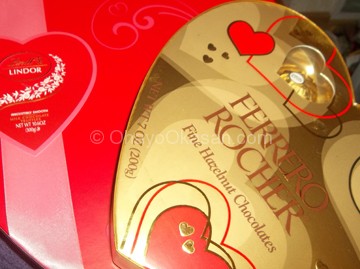 I woke up eventually (okay okay 10am!) to the two boxes of chocolates you see above were on my desk with a perfect little card. ?
The Ferrero Rocher are my favorite of the two chocolates, but I do like the Lindor truffles, so he did good by me. I was presented with an iced coffee he made as I sat down at my desk to take care of Risi.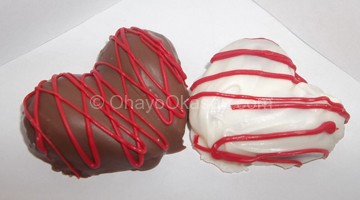 Once I felt a bit more energetic (after I had food and coffee in me), I made up the rest of the strawberries into hearts. This time Sis and Var got to have some as well! See who finally remembered how to do the pretty squiggles??? Me!! 😀
Nothing fancy or fussy today. No big dinner plans in a crowded restaurant.
Aside from Risi (who is now asleep for the night), all of the kids are at their dad's places. Which means Kat, Var and Sis are with ex-h, and Lisi is with Max.
It's a pizza and RP chill out night for Aussie and me, and I couldn't imagine a better way to just relax and enjoy things we like instead of attempting the more fussy/formal aspect of the holiday.
I hope that, even if you don't have a S/O right now, you did something nice or at least got something for yourself for the day. I know love should be celebrated more than once a year… but I like fussy little holidays to a certain extent.
Do you do anything special for Valentines Day?
I'd like to thank Jasmin at 1 Fine Cookie for the idea of the Chocolate Covered Strawberry Hearts!!