Disclaimer: We received the following products for free in order for us to give an honest review. All opinions expressed are those of the people mentioned below in the post, aside from what is quoted, which of course comes from the company!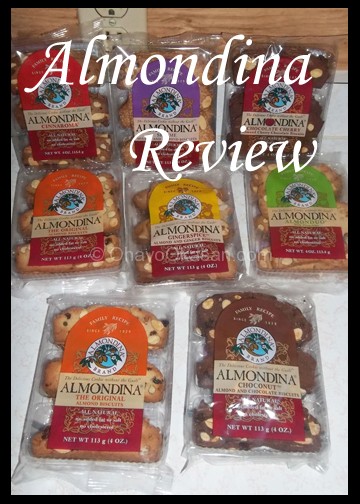 Almondina® – The Delicious Cookie Without the Guilt, this all-natural, crispy almond cookie has no cholesterol and no added fat, salt, or preservatives and has only 30 calories. The Almondina story is terrific & heartwarming.
Almondina reached out to me recently to see if I wanted to review their line of crispy cookie/biscuits. I figured, why not? I am trying to eat better and if this cookie lives up to being delicious and satisfying with only 30 calories per one. Why not?
You can find Almondina's at Fairway, Hy Vee, Giant Eagle, Brookshire, Mollie Stone's, Hannaford, Jewel, Whole Foods, The FreshMarket, Walmart, Trader Joe's, Cost Plus World Market, TJ Maxx, Marshalls and many other stores.
Sadly, most of ours were broken in transit, so I was offering lots of random pieces to people for the taste testing.
In the quote below, I'm bolding the flavors we were given to try. As we weren't given everything Almondina offers. Which is a bummer, as I would have loved to try the ones dipped in chocolate!!
Almondina are unique – a gourmet cookie, health food and snack, all in one. These extraordinary gourmet treats are created from Yuval Zaliouk's secret family recipe which has been passed down from generation to generation and was introduced to the market in 1989. It is wonderfully crunchy and does not have to be dipped. It is a delightful accompaniment for coffee, tea, soft cheeses and fine light wines.

Almondina® biscuits in the following flavors:  

· Original – America's all natural favorite with almonds and raisins

· Chocolate Cherry – We combined the world's finest dark chocolate

  with plump cherries to produce an irresistible, decadent treat without guilt.

· Choconut – Rich tasting crunchy chocolate, but low in calories

· Cinnaroma® – The original biscuit for cinnamon lovers

· Gingerspice – Trend setting, with chunks of Australian ginger

· AlmonDuo® – Double-nut wonder with almonds and pistachios

· AnniversaryT – Award winning delight with a touch of anise

· BranTreats® – Made with oat bran and the finest cinnamon "Cookies For Breakfast"

· Sesame – Irresistible, exotic, flavorful

– Seasonal Pumpkin Spice – A seasonal attraction with a delightful touch of fall spices combined with the highest quality almonds and pepitas (pumpkin seeds)

Including new products:

· Chocolate Dipped – the Original® dipped in the finest, pure, rich dark chocolate was

  previously offered only certain times of the year is now available year round

· Delights – The Original® Almondina totally encased in Milk chocolate

· Yogurt Dipped – Brantreats® dipped on one side with a layer of all natural yogurt
Now right off the bat I have to mention that Kat didn't like any of these. She tried three of the flavors and didn't like a single one. To her they lacked flavor and the texture just wasn't good.
Here is what the rest of us thought!
Sesame: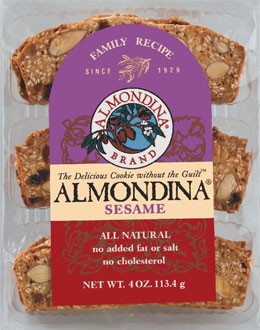 Cid – These have kind of a burnt sesame taste, not really very good.
Kisa – Not too terrible, very roasted almost burnt taste to the sesame. I do like the crunch and the almonds are nice, I don't really like raisins, but they're good in here. Not my favorite flavor at all.
Var – Yummy and delicious! They're like almond and chocolate! (I have no idea how he got the chocolate part?)
Sisi and Lisi – Not a fan at all.
Choconut: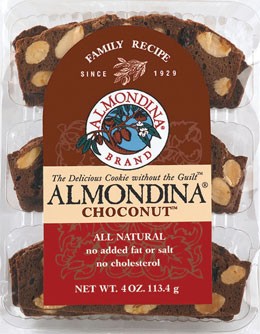 Cid – Not as bad, very much like an English style biscuit.
Kisa – Not much on the chocolate taste. I do like the crunch and the almonds are delicious. I don't notice the raisins at all, which is awesome!
Var – It's delicious because it's chocolate! (He then ate 1/3 of the package!)
Sisi – I think it would have the same amount of goodness without the almond, but it's really good with the almond. I didn't notice there were raisins
Lisi and Kat – *handed their pieces to Var*
Cinnaroma: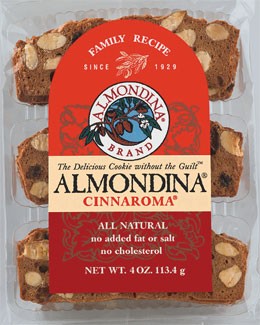 Cid – It's nice, not an overpowering cinnamon but still noticeably cinnamony. Couldn't even notice the raisins.
Kisa  – Surprisingly good! These didn't smell good and were very strongly cinnamon scented, but they are very nice. I can't taste or notice the texture of the raisins. Which is good, they are thin enough that they don't set off my texture issues!
Var – Pretty good, tastes like lots of cinnamon and lots of almond. (Then ate 1/4 of the package.)
Sisi – It tastes like graham cracker with almonds, again the raisins aren't noticeable making them nice.
Lisi and Kat  – Smell alone made them not want to give these a chance.
Chocolate Cherry: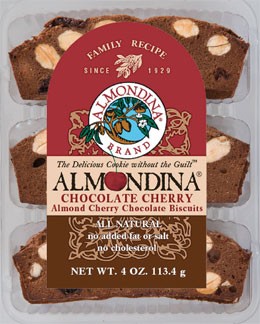 Cid – Good flavor combination, without the usual squishiness that usually goes with chocolate cherry. *He doesn't like chocolate and cherry, but did not mind these.*
Kisa – I'm not really good with textures of many dehydrated fruits or fruits in general. These aren't bad, the taste is good, but the texture can be a little off-putting for me. Can't really taste the chocolate again, though they're brown like chocolate.
Var – It tastes like raisins, and I don't really like it.
Sisi – I like this one best of all! The cherry helps! (These went to a sleep over with her and they devoured them!)
Lisi and Kat – Lisi tried them and didn't like, Kat doesn't like cherry so she didn't try.
Almonduo with Pistachio: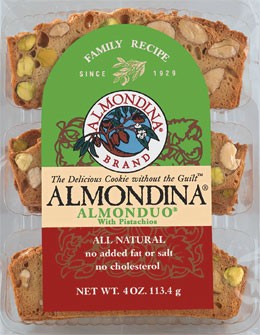 Cid – Good flavor, but I don't like the texture of pistachios. They're still good despite that.
Kisa – Hands down my FAVORITE of the Almondina's!! I love Almonds and Pistachios and absolutely love these. I would prefer if the pistachio pieces were smaller. But I finished off this entire pack because no one else wanted to try them. This is a must have again for me!
Gingerspice: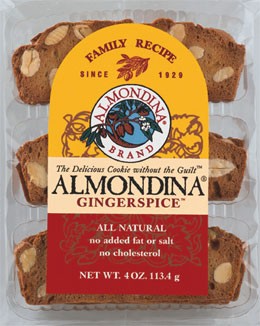 At this point the kids were pretty sampled out. So it really came down to just what Cid and I thought. I love ginger in Chinese food and other dishes, but I wasn't sure about in a cookie. It seemed too spicy for that, but I gave them an honest try anyway.
Cid – It's really good, I like the ginger and almond combination. These are my favorite ones.
Kisa – Honestly, I wasn't expecting these to be good, but they're almost as good to me as the Almonduo with Pistachio flavor! I usually just use ground ginger in things, so I wasn't sure how I would handle the actual pieces of it. But it went well! A little spicy, but not awful, still very cookie/biscuit like despite the little kick of the ginger.
The Original: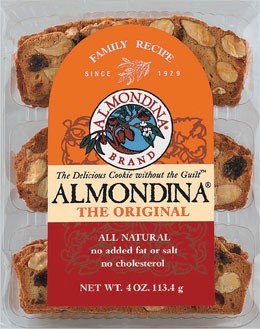 Yep, I saved the original for last because I wanted to see what the other flavors would be like. I went for what was closet and just worked in random order too. So for the original…
Cid –  Nice mellow almond flavor, raisins aren't overpowering but you can tell they are there for those who like them. These would be my second favorite as well.
Kisa – These would be my second favorite, with the first being the Almonduo. I yet again don't notice the texture of the raisins, which means I am getting in something healthy without having issue. That's a good thing. I love almonds, and these are great. I'd grab these if I had no more Almonduo's left!
Overall we really did like these. I think Cid is going to eat the rest of the Gingerspice cookies! He says 'if he was more snobby' he could recommend which types of coffee to drink with them. That caused me a little giggle.
I personally would eat the Almonduo and Original with my favorite coffee. Which is a blended iced mocha of course! Maybe they'd be good dipped in a hot coffee?
Have you tried Almondina cookies at all yet? If given the chance, would you?
Disclaimer: We received the above mentioned products in order to facilitate our review, however this in no way influenced our opinions.