Disclaimer: This is a sponsored post made on behalf of the Mommerce network and Nickelodeon Squeezers.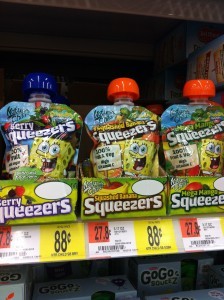 Hey everyone! I wanted to spread the news about a great sale on Squeezers! In case you didn't know, Squeezers are 100% natural, 100% fruit squeezable pouches for your kiddos. They are free of High Fructose Corn Syrup, Food Colors, or Artificial flavors. Something like this is perfect if you have kiddos that don't mind their fruit in pouches. Which really seems to be the new way to eat things like this!
These pouches are usually $1.15 each, but right now they're on rollback at Walmart to $0.88 a pouch! These are also available at Target stores but I have no idea the pricing on them there.

Also, right now there is an awesome photo contest going on right now! The photo contest really just involves having your child 'modeling' as they're enjoying a Squeezers Nickelodian Product. People will be casting their votes for their favorite photo, and the one winner will win a $500 Walmart Gift Card!!

Yes, you read that right! Originally the gift card was only going to be $250, but the prize has now been doubled. 
The giveaway is going on over at Squeezers Facebook Page
! All you need to do is like the page, click on the 'contest' part on the page, and follow the instructions. Of course you'll need a picture of your kiddo enjoying the product, but that's not hard right? What's a few pouches for the chance to win $500??
The contest runs from 1/20/2014 until 2/2/2014!
Voting starts on Feb 3rd and ends Feb 16th at 11:59PM EST. Winner will be announced on Feb 17th!
Please let them know that Ohayo Okasan sent you, as I would super appreciate it!