We all really love Chinese food. In particular we love Beef and Broccoli or even Chicken and Broccoli.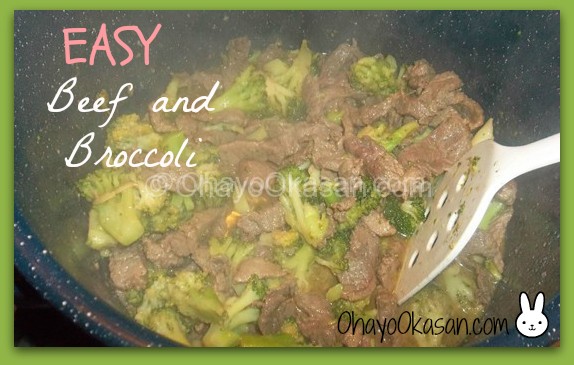 Our local buffet does a good job at making it, but sadly some of the actual non-buffet Chinese places here in town suck at it. Still, we can't really afford the buffet or take-out Chinese all that often. So I needed to find a way to have what we love, but here at home!
So I present to you, my recipe for Chinese Beef and Broccoli!!
I make sure to cook for about 10. It gives everyone dinner and allows for left overs. We have a fair bit of mouths to feed, plus it's so good the kids like extra!
Ingredients:
1 pound thin cut Steak, sliced in to small strips.
1 tsp Ground ginger.
1 tsp Onion powder or minced onion. More to taste if you all really like onion.
1 tsp Garlic powder. Not garlic salt, unless you prefer it.
4 Tbsp Soy Sauce. I use low sodium.
2 Tbsp Sugar.
1 1/2 pounds Broccoli, cut in to small pieces, or one 14 ounce bag of frozen broccoli florets.
1 1/4 cup Beef Stock
1 cup cold water
4 Tbsp corn starch.
4 Tbsp olive oil (to cook with, you may need more depending on how you like to cook things?)
Large Wok or frying pan.
I've made this with gluten free soy sauce, and corn starch with excellent results as well!
Directions:
Mix ginger, onion powder, garlic powder, soy sauce, sugar and 1/4 cup Beef stock together. Mix beef into this sauce and allow to sit while you work on your broccoli.
Heat up 2 Tbsp of the olive oil in your Wok/frying pan.
Cook your broccoli until it is cooked through and has a little bit of cooked crispness like in this picture.
Set the broccoli aside and warm up the last 2 Tbsp of olive oil.
Combine 1 cup beef stock with 1 cup cold water, add in corn starch and let sit after all mixed.
Cook up your marinated steak until fully cooked.
Add the broccoli to the beef and stir together. Add in your stock/water/corn starch mixture and cook on medium-high until it boils for about a minute. Make sure to stir often.
Turn the heat down to low and allow to simmer until sauce thickens.
This is awesome served with noodles or over steamed rice. I have a rice cooker that I love (though it has seen far far better days and needs replaced!) and I love having this over steamed rice.
There you have it! You can easily use thin sliced and cut up chicken to make this into chicken and broccoli. Just replace the beef stock with chicken stock and you've got the same thing just different meat! It's fantastic both ways.
I hope you enjoy!
Beef and Broccoli

  4 Servings

Amount Per Serving


  Calories

470.3

  Total Fat

30.4

 g

  Saturated Fat

8.1

 g

  Polyunsaturated Fat

2.2

 g

  Monounsaturated Fat

10.0

 g

  Cholesterol

55.0

 mg

  Sodium

983.0

 mg

  Potassium

285.0

 mg

  Total Carbohydrate

22.3

 g

  Dietary Fiber

3.4

 g

  Sugars

7.9

 g

  Protein

26.7

 g

  Vitamin A

24.3

 %

  Vitamin B-12

0.0

 %

  Vitamin B-6

10.9

 %

  Vitamin C

121.6

 %

  Vitamin D

0.0

 %

  Vitamin E

8.9

 %

  Calcium

4.8

 %

  Copper

2.3

 %

  Folate

25.3

 %

  Iron

4.7

 %

  Magnesium

4.9

 %

  Manganese

19.9

 %

  Niacin

2.6

 %

  Pantothenic Acid    

2.6

 %

  Phosphorus    

6.8

 %

  Riboflavin

7.3

 %

  Selenium

3.5

 %

  Thiamin

5.5

 %

  Zinc

2.8

 %

*Percent Daily Values are based on a 2,000 calorie diet. Your daily values may be higher or lower depending on your calorie needs.

12.4 Weight Watchers Plus Points per serving.