Disclaimer: I received a bottle of Radical Skincare's Revitalizing Mask in order to facilitate my review. No compensation was given for writing this post and all views are my own.
When I first heard about this product from Radical Skincare I wasn't 100% sure of how it would work or feel. Bubbles? Soft, smooth, glowing skin in minutes? Hmmm.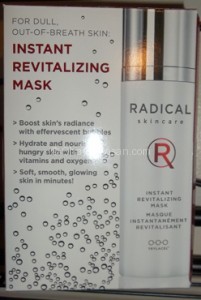 Being a new-again mom (considering there is 7 1/2 years age difference between Lisi and Risi, I consider myself that!) means that I am exhausted. On top of that I'm in pain from issues I've been having since Risi was born so everything takes a bit longer for me to do. It also means a lot of things that aren't vital for survival right now fall to the wayside.  Of course one of those things is taking care of myself, particularly my skin.
Not that I usually have too many issues with my skin, I do have some and it has been dull, dry, and lifeless as of late.


So, here was to hoping that Radical Skincare's mask would help give it a little pep!
Though this picture doesn't show it all that well, there is a bit of a pearl/shimmery quality to the mask. I started with a clean face and applied just this much, as I wasn't sure how much to use.
I have to say that the mask smelled absolutely lovely, citrusy, like orange juice.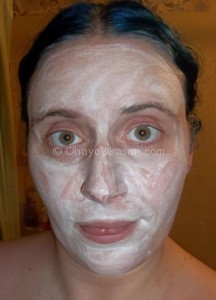 Also it foams like shaving cream as your putting it on, so you look a little like this. Minus the fat-face and the tongue sticking out I'm sure. I was just feeling silly.
Once this was on it started to bubble/foam/poppy on my skin. It felt and smelled like orange soda fizzies were on my face! It was a neat sensation, but it was a little concerning at first. I had to wonder if I was having some sort of reaction to it that I shouldn't have been!
I let this sit on for the time it took me to do what repairs I could do our cat tree, one part is completely broken now, but I got it back together.
A quick rinse in warm water and my face felt lovely. Yes indeed silky smooth and a little tighter feeling. More awake for sure!
I had to run Sis, Var and Lis to school but I snapped the pic below to show you how my face looks after it's been washed, dried, masked, rinsed, dried, and given a few minutes to settle.
To me, it looks and feels so much better than it has in awhile! The bottle recommends to use the mask two times a week, or as needed. I believe I'll stick with the two times a week. The smell, feeling, and results are awesome! Plus I could use a little quick pampering.
Just, not always when I am having to run the kids to school in a few minutes!
I would highly recommend Radical Skincare's Revitalizing Mask, which you can purchase at their website. Check out all their other wonderful products as well, I know I will be!