"I participated in a campaign on behalf of Mom Central Consulting for Chicco. I received a product sample to facilitate my review and as a thank you for participating."
Introducing Chicco bottles from their NaturalFit line.
Recently I got the chance to review some awesome bottles compliments of Chicco. Their NaturalFit line of products are designed to be responsive to the changing needs and styles of babies as they grow.
The stage 1 Chicco bottles are designed for babies 0-3 months who are in the Squeezing stage. They're meant to create an easy transition between breast and bottle with their wide base ad soft flexible nipple which are meant to mimic mother's breast.
I didn't start out trying to feed Risi breast wise, so I don't know on the point of transitioning from breast to bottle. I've never used a bottle with a wide neck or large nipple base before with any of the kids. Which is why I so so excited to be able to try these out. They looked interesting and perhaps they are better than more standard bottles?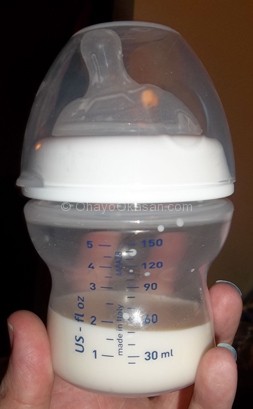 These bottles are designed to help reduce/prevent air ingestion, gas and spit-up. So are the bottles I currently use, but they're the ones that have far too many darn parts and can be so annoying to wash! I've only been able to use these bottles from the set so far, as Risi isn't big enough to move on to any of the bottles in the set.
But I have to say, I love the wider mouth and the shape! While the shape is different and I'm not used to holding such a large bottle, Risi hasn't had any problem switching between our normal bottles and these ones.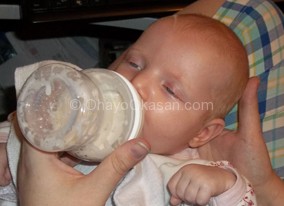 As you can see above she absolutely loves the bottle, not a single problem going ahead and drinking from it.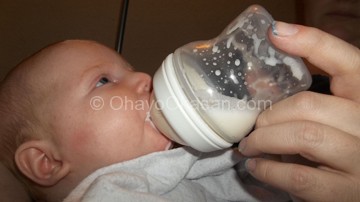 Though it did make her a little more drooly than normal the first time around. The one in the picture above is meant for 0+ months, and is 5 oz, meant for 4 oz of formula. The 8 oz bottle is actually 9 oz, meaning there is no issues with making too much that goes above 'the line' in the bottle like our current bottles have. The 8 oz bottle with the nipple at a slant is meant for 2+ months and is a little too fast for Risi's liking.
I also received an 8 oz bottle that can be used three different ways, depending on how you hold the bottle the flow of the milk changes. It's designed for babies 4 months + so I haven't tried it just yet. Risi is only 9 1/2 weeks old at this point.
In addition to these bottles I also got an 11 oz bottle meant for 6+ months so that is still in the package. Two different types of Pacifier are included but we don't really use pacifiers so I can't really say too much on how they work.
I really like using these bottles, my only problem is I only have one bottle that I can currently use with Risi as far as these type goes.
The wide base with the flexible nipple, with the awesome flexors at the base to help with elasticity, and the two anti-colic valves really do help with feeding issues and reducing gas.
All the Chicco bottles are BPA free, Made in Italy and are really lovely quality. I can't wait until they're available for purchase in the states so that I can get more to use.
The NaturalFit bottles are available in store at buybuy BABY in the US, and will be available online for purchase at the end of the month (Jan 2014)! I look forward to being able to purchase more of these bottles for Risi.