This year is the first time we did Gingerbread houses where I had all the kids just do their own houses.
Kat still hasn't done hers, so I don't have that to show. It's sitting there waiting. Phbbbt!
First, I started with four house kits, these ones in particular.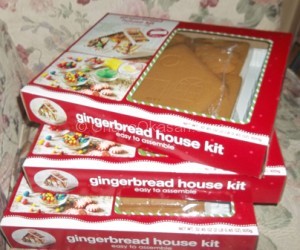 I like this brand because of their price point and quality. Thankfully this year they made a change to their overall kit! Yes!!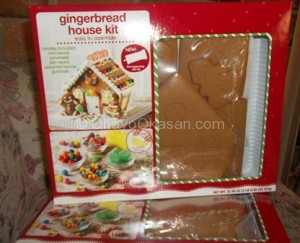 See this below? It's a frosting bag with a plastic tip that makes it easier to actually use the darn icing! FINALLY!! Before you had to cut a corner and hope for the best. Now a plastic tip with a cap makes everything so much easier. I can actually better control what's going on!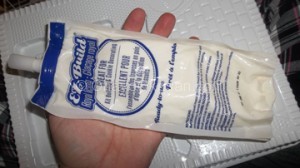 The kit also had some yellow fondant, but we don't even have a single rolling pin in the house. So.. we didn't touch the fondant. >.> We just ended up throwing it away, I've never actually tasted fondant either. I'm not sure how it would taste, but I wasn't in the mood to find out! I was making four gingerbread houses while a Japanese Cheesecake was in the oven!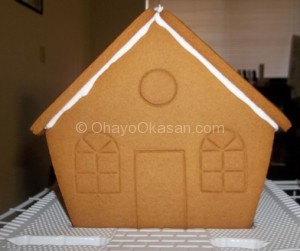 Thanks to the new frosting/icing bag, I was finally able to get the houses up and together with only some issues. But they actually ALL held together! Usually I can't keep them situated very well thanks to lack of frosting control. They're a total mess!!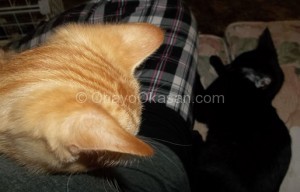 As anyone with kittens or cats will tell you, they tend to be very… ahh… helpful creatures. Squeakers and Midnight were insisting on helping me build the houses for the kids to decorate.
See, squeaks is very insistent that he is the absolute best kitten for the job of helping mom with gingerbread houses!!
Now then, on to the houses!

This beautiful house was made by none other than Sisi. How pretty is that? You know, I've never actually decorated a gingerbread house. Not on my own anyway, I've helped a teeny bit here and there with the kiddos, but that's it!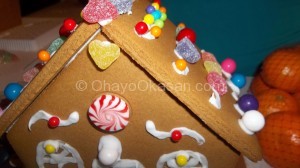 So pretty and as she attempted, so symmetrical!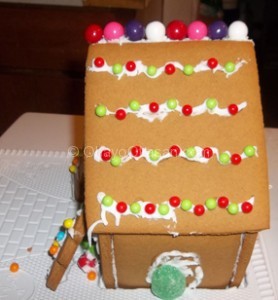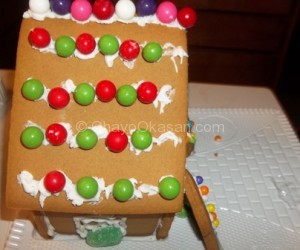 This is actually Lisi's house, both sides of it… for some reason I never did get a picture of the
I think the house still stands, so I will have to get a decent picture shown!front of it! D: Bad mommy.
Above is Var's house, he also attempted the symmetrical look. Then promptly wanted to eat the candies off the house. I at least held him off for the most part so I could take a picture!
Once I get Kat to decorate her house I will show it in a post of it's own.