As you all probably remember from my review of Giant Microbes last year, we absolutely love their plush toys of various microbes/diseases! All of the kids currently have their own Giant Microbes plush that they got last Christmas and I love their newer offerings as well. Such as Plasma, Rotavirus and Tapeworm!
This year, Giant Microbes reached out to us on spreading the news on their adorable Christmas Boxes!!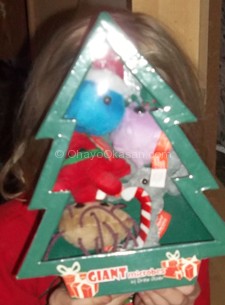 We got the Christmas tree shaped box that comes with five different mini-GIANTmicrobes ornaments! So darn cute!
The tree box comes with the following ornaments: 
"Trim your tree with Common Cold, Brain Cell, Kissing Disease, E. coli and the limited edition Red Amoeba, festively adorned with a Santa hat, candy cane, mistletoe, reindeer antlers, and winter scarf"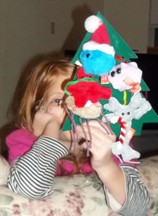 We don't have our tree up yet, because I need to buy new lights as all of mine died. >.> But I can't wait to put these GIANTmicrobes on the tree. The kids are super excited as well, and even had me pose with one on my head for a picture I put on Instagram.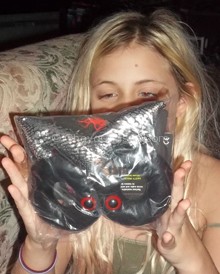 Next we got a new Computer Virus Doll! We got the Malware plush, which the kids enjoy getting to use as a mask.


As you can see in the picture of Var above! 😉 They like to wear it either way, and I yes sometimes play with it the same way.
Computer Virus Dolls are made with the 0's and 1's of binary code, to make up cute little plush dolls like you see above. The company also sells keychains as well. We got the Virus keychain, but I forgot to take a good picture of that.
Here are some cool facts of the Computer Virus line of products:
·         Designed using the 1's and 0's of binary code!

·         Computer Virus Dolls come packaged with a "pop-up" hang tag just like the pop-up warning you get on your computer screen when you get a real virus.

·         Computer Virus Dolls include an extra long sewn-in label with their names spelled out in binary code.

·         Both the Dolls and Key Chains come with educational information about each virus that they represent.

·         4 Viruses are available now: Malware, Trojan, Worm, and Virus. 
The wonderful folks at GIANTmicrobes have high quality plush that, even if at first the idea seems strange, are really cute to have! I love seeing the various designs they have and the cute twist on ailments and various other things (like blood cells, liver cells, plasma, etc) look like in awesome size, and soft plushies!
The winner of my big Holiday Gift Guide giveaway will be getting 1 GIANTmicrobes plush of their choice, and 1 Computer Virus Doll or Keychain of their choice as well!