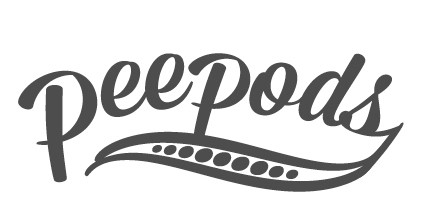 One thing that happens after having a baby is bleeding, lots of it really. I had heard about Peepods in my search for postpartum products that would make me feel more comfortable after my delivery. Anything that could make life easier and me more comfortable was a huge emphasis on my guide this year!
Peepods set me a small set for my review and I have to say I am impressed with how they work. I got two long and two short postpartum pads in Cranberry.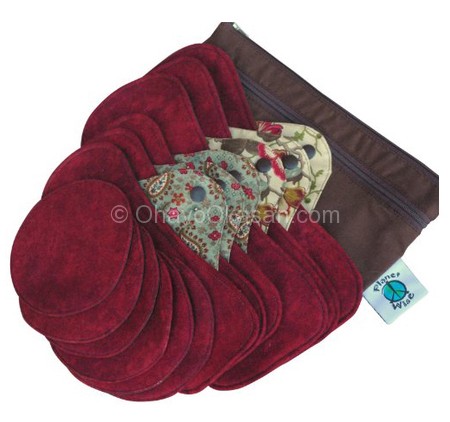 Basically this set, but with one less of each pad and no nursing pads.
I wasn't sure about cloth pads from the get go, would they actually product my underwear from getting bloody? Would they be comfortable? Did they work as well, if not better than your typical disposable pad?
I didn't use them for the first few days after delivery, I tend to bleed a fair bit and it tends to.. erm… spread. >.> So I knew that even the long ones weren't enough coverage for me (The hospital pads are huge and I used those until I felt confident to use these!) which is alright, thankfully the hospital stash of pads they gave me covered the really off the wall  heavy days I tend to get.
These pads have been wonderful since my bleeding has gone done to more normal levels. The only bad thing for me is only having two of each type of pad! 😉 I would need at least enough to last me a full day of each type to never need to worry about buying the disposable pads again.
I had Kat use the pads during her last cycle due to the fact that I didn't know she didn't have pads until the last minute. She ended up liking them too! Peepods does offer regular period pads, and long period pads, which are likely the ones I would get for myself. The website doesn't mention how long the long pads are, and it would be helpful if that was mentioned.
I was surprised that these pads kept my underwear protected without issue, I had figured since it was just … cloth as far as I'm aware, that I would easily have to deal with leak-through and wasn't sure what to expect at all. Once I can afford them, I will be making a purchase of a set of normal period Peepods, or likely really two. Likely in Espresso for myself and Cranberry for Kat. Or maybe the other way around, depending on what Kat picks.
Anyway, these pads are awesome. More so if you've never used cloth and aren't sure really what to expect from them. They more than meet my expectations! Comfortable, Durable, Attractive fabric choices and better than having bleached cotton and whatever else pressed up against your girly bits during your monthly cycle or right after having a baby. I would highly recommend looking into Peepods pads if you're trying to break away from disposable products.
Pads are machine washable and dry-able!
Environmentally friendly alternative to disposable products.
Comfortable, Beautiful, and Durable.
All one piece – no fussy inserts or flaps to shove them into.
Peepods is one of the hosts in my Holiday Gift Guide giveaway this year. They will be giving away a set of 7 pads and a wet/dry bag! The winner can pick between the Cranberry or Espresso color.
Can't wait to get yourself some Peepods though? You can save 10% off your entire order by entering the code MYPEEPODS! This code doesn't expire so enjoy!
You can connect with Peepods on both Facebook and Twitter as well to find out more.
Disclaimer: I received the product mentioned above in order to facilitate this review. No other compensation was received and all opinions are my own.