One of the sponsors for my 2013 Holiday Gift Guide is the Itzbeen Pocket Nanny!
I've named my Itzbeen 'Click Click' and it goes around with me everywhere the baby is! If I'm out of the house Click Click is either attached to a pocket on my clothes or a pocket of my purse. If Risi's in her bassinet it's clipped on the edge of the canopy. If she's up in the middle of the night to feed and get a diaper change then it is right next to me with the nightlight (up top, the part that says Itzbeen) is glowing gently down off to the side so I can see without turning on a bright light.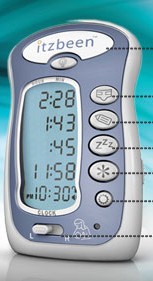 The Itzbeen has been a life saver. My anxiety and general lack of solid sleep makes it difficult to remember when Risi last ate, got a diaper change, and how long she's been asleep. When the older kids were little I had an easier time remembering to write things down (probably because I didn't also have to worry about four kids worth of homework and getting people to/from school back then! Hah!) so I could keep track.
Anymore though? That's just not happening! Click Click was packed in my hospital bag and eagerly awaited Risi's arrival, which you can read about here, and I am so glad to have this addition to my hospital bag and home life!
There are three colors of Itzbeen pocket nanny's. Pink, Green and Blue. As you can see in the picture above, I decided Click Click should be blue, mainly because it's my favorite color.
The Itzbeen allows you to keep track of diaper changes, feeding times, sleep/awake time, an extra button for whatever you decide (I used it to keep track of how long ago I'd taken pain killers), has a display back light, allows you to have alarms off and on, has a locking switch on the side (so you don't pick up the unit and accidentally press all the buttons ever!) and even a little slider that allows you to switch between R and L to remember which side you breastfed on last.
There is also the handy night-light on the top, they mention it's soft-glow, and while I agree it's not an overly bright light, the light when you're super tired can seem almost completely overwhelming the first few uses until you're used to what you're going to be using in the middle of the night. The light is absolutely perfect in helping me with diaper changes at night, as well as finding anything that may have fallen out of my little bedside diaper/wipes/bottle/spare outfit bin. I don't have to turn on a light to do things or have a ton of night-lights in the room. I need to sleep in basically complete darkness and fumbling around to turn on a nightlight that plugs into the wall would be a complete and total disaster with a baby who is middle of the night fussing for food/diaper!
Risi is 12 days old now, and I've used Click Click every single day since she was born! The only thing that would make it better for me is if there was a way to put down how many Oz or Ml's of formula she's taking at feedings so I could keep track of that better! 😉
The Itzbeen is one of the best baby products I've ever used and that's saying a lot considering this is baby #5! 😉 I couldn't imagine not having it at this point, and plan to pass it on to someone someday when they have a new baby and I'm not using it anymore.
That'll likely be awhile though, I can't imagine not using it at this point!
Itzbeen will be providing a pocket nanny unit in a winners choice of color in the upcoming 2013 Holiday Gift Guide giveaway! Still, if you absolutely cannot wait, you're able to buy one here!