I'm so behind on a lot of things, one of them is actually getting up Risi's birth story! Which I've been meaning to get up since we got out of the hospital, but obviously failed on.
My blood pressure had been high for a couple of weeks at this point. It just wouldn't behave but thankfully it was really my only symptom aside from a mild headache. I didn't get a diagnosis of Preeclampsia and I'd never had one before. So I was happy to avoid it!
Still my OB wasn't so thrilled at my "freaky-high" blood pressure and general weakness due to it. I felt absolutely positively horrible for those 3ish weeks that my blood pressure would not behave. Still, Halloween was looming, kids still needed driven to/from school and various appointments. As gentle as I tried to be on myself, I always felt weak and often like I was going to faint any second. I tried to soldier on the best I could.. but it really wasn't doing much good.
.On Monday the 4th (my mom's birthday! Happy Birthday Mom!) I went in for yet another doctors check. Yet again my blood pressure was too high and we decided that the next day (the 5th) we were going to go ahead and schedule an induction. My heart hurt with the decision. I was 39wk 4d on Monday had figured I would have had her easily on my own by then. Only Kat made it to 40 weeks exactly (she was born on her due date) with Sis, Var and Lisi all born at 38 weeks! What on earth was going on?
Over night as I attempted to sleep, knowing that at 5 AM I needed to call L&D to see if they had room for me, I hoped and hoped that Risi would come on her own. But it didn't happen. L&D didn't have room for me, and still didn't at 9AM when I was to call again, so it was off to the doctors for yet another appointment.
Again my blood pressure was angry, and I had to go lay in a room to see if laying down would help it go down. The bad thing was, aside from driving the kids to school, and driving to the doctors office. I'd been laying around in bed all darn day. I have no idea why doing anything at all was spiking my blood pressure to the levels it was… but it sucked, and no one really understood just how darn awful I felt. Which made it worse… because I was being viewed as lazy. I'd been struggling with feeling physically unwell the majority of the pregnancy as it was, and it had just gone further and further downhill.
If I could have been offered the chance to spend the last month of it in the hospital just being watched and having people take gentle care of me or what have you.. I absolutely would have taken it if I could have found care for the other four kids. Just sitting up at the computer took so much energy, my heart felt like it was having to fight just to work. It's still depressing to think of what emotional difficulties (and fights) my weakness during this pregnancy caused. I really can't ever have another child at this point, you know.. not without hiring a maid, a cook, and a driver for the kids.
Anyway, from the appointment the Doctor called L&D for me, they didn't consider it safe enough for me to keep on with my blood pressure not wanting to behave. They had to fit me in, somehow, someway. Not tomorrow, but THEN. Thankfully, they were going to have room for us an hour later. So I went home, ate a little, laid down for what time I  had, and then off to the hospital.
I didn't want an IV from the get go, I've only had to have one during two of my labors…
The one with Kat because they forced me too, and the one with Lisi because they were worried she wouldn't get all the way head down… but it was just fluids and it was out minutes after she was born!
Sadly I tested Group B Strep positive for the first time ever during pregnancy, and was going to have to have antibiotics. Blah, Pills wouldn't have been good enough, which sucks. What also sucked is I ended up having to be delivered by the Midwife (who didn't give a damn about most of my wishes) instead of the OB I'd seen the majority of my doctors visits.
After the first round of antibiotics they started a slow dose of Pitocin, it was annoying… and I really hated myself for needing to have the medication just to get everything going. It worked slowly, and stupidly, I agreed at 5PM to let them break my water when I was only 4.5CM dilated, I'd never had it done before 10CM.
After my waters were broken they went and amped up the Pitocin, but not higher than a 10, which I guess they've gone as high as 16? Still… I felt like a failure, here I'd done it all so easily before… and now I was having to have medication and IV's and a constant blood pressure monitor cuff on me. I felt like my body was failing me and no one cared at all, I just wanted to go to sleep and say forget it. Just keep me here until she comes on her own.. but it was too late at that point.
I was fine for about 15-20 minutes as I lay on my back, until the Pitocin caused a contraction that was actually rather painful and the Midwife and one nurse (most of the nurses were awesome, this one was really not) decided that I needed to lay on my left side, no matter the fact that doing so had been agonizingly painful for me the majority of my pregnancy. I told them I didn't want to, but to them it really didn't matter. I was more than happy to move positions, but greatly would have preferred one that hadn't been causing me so much pain already.
They then left the room. I wasn't alone of course, but I had no medical professionals in there with me. So one one contraction hit insanely strongly, causing my lower back feel like it was being ripped apart with emphasis on my left hip, I felt completely abandoned by those who were supposed to be helping me through something I was insanely scared about. Labor without any assistance like this, was far easier on me mentally and physically that's for sure!
A second after that contraction tapered off, a second much stronger one hit, my blood pressure skyrocketed, and despite my calling out for someone no one came.
The contraction didn't stop, it seemed to go on forever and soon enough my entire back (shoulders down) and chest started to spasm. The muscles twitched angrily and I felt like I couldn't breathe at all. I ended up sounding like an alarmed kitten or something, gasp/crying "Help! Help! Help! Help! Help! Help!" until finally someone came in and pretty much scolded me for panicking during a panic attack. It's pretty much like yelling at a newborn for crying when they're hungry as you're sitting there playing cards or someshit. The entire feeling was awful…
I finally was allowed off my left side, but onto my right until I couldn't handle it. Going on my hands and knees was much better, but they attempted to convince me to put on an air mask. Still, the only way I was remaining calm through the worst of the contractions was pressing my forehead into the mattress, and breathing into the pillows through my mouth as I wiggled my hips. True to all my other labors, I was having back labor again.
I believe it was around 6:40 that I laid back down so I could be checked for how dilated I was, thankfully I was 10 and just about ready.
At 6:50 they told me I'd be able to push soon, but they needed to get all ready. About 2-3 minutes of breaking down the bed and getting everything ready, and I was told I was allowed to push through the next contraction. At 6:55PM, after one push.. There she was.
The intention was having her dad catch her during delivery, but despite my warnings they didn't have him get ready as well. I had said many times that once I can push, I go pretty quickly. No one was ready for it to be THAT fast.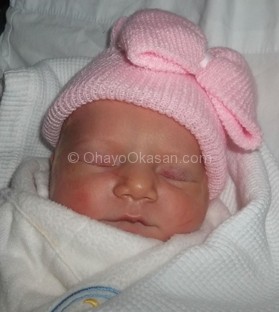 November 5th, 2013 at 6:55PM PST. Risi was born!
Weighing in at 7lbs 8.6oz she's my second heaviest baby ever! (Kat was 7lbs 11oz)
She measured 19.5 inches long, which is fantastic. 🙂
During the night, after they'd blood tested the placenta and things a doctor had come in asking if I'd had any infections or anything other than the GBS. It then turned out that Risi's blood and mine are incompatible, with her being an A- and me an O+ causing her to be somewhat Jaundiced and at risk for her red blood cells to break down. It's can an ABO incompatibility, and after learning that we had it… I couldn't fall back asleep and ended up internet searching far too many things on my phone for my own good.
There was a possibility she'd need to stay in the hospital longer, and even get a blood transfusion! The incompatibility could also cause her to die if not caught.
Then there were the blood draws, I had to have her go in another room with her dad and the nurses so I didn't sit there and cry through the entire process. My brain was just lost, I'd never heard of such a thing! I was tired, sore, felt helpless, and worried that she was going to be faced with something very serious all too soon.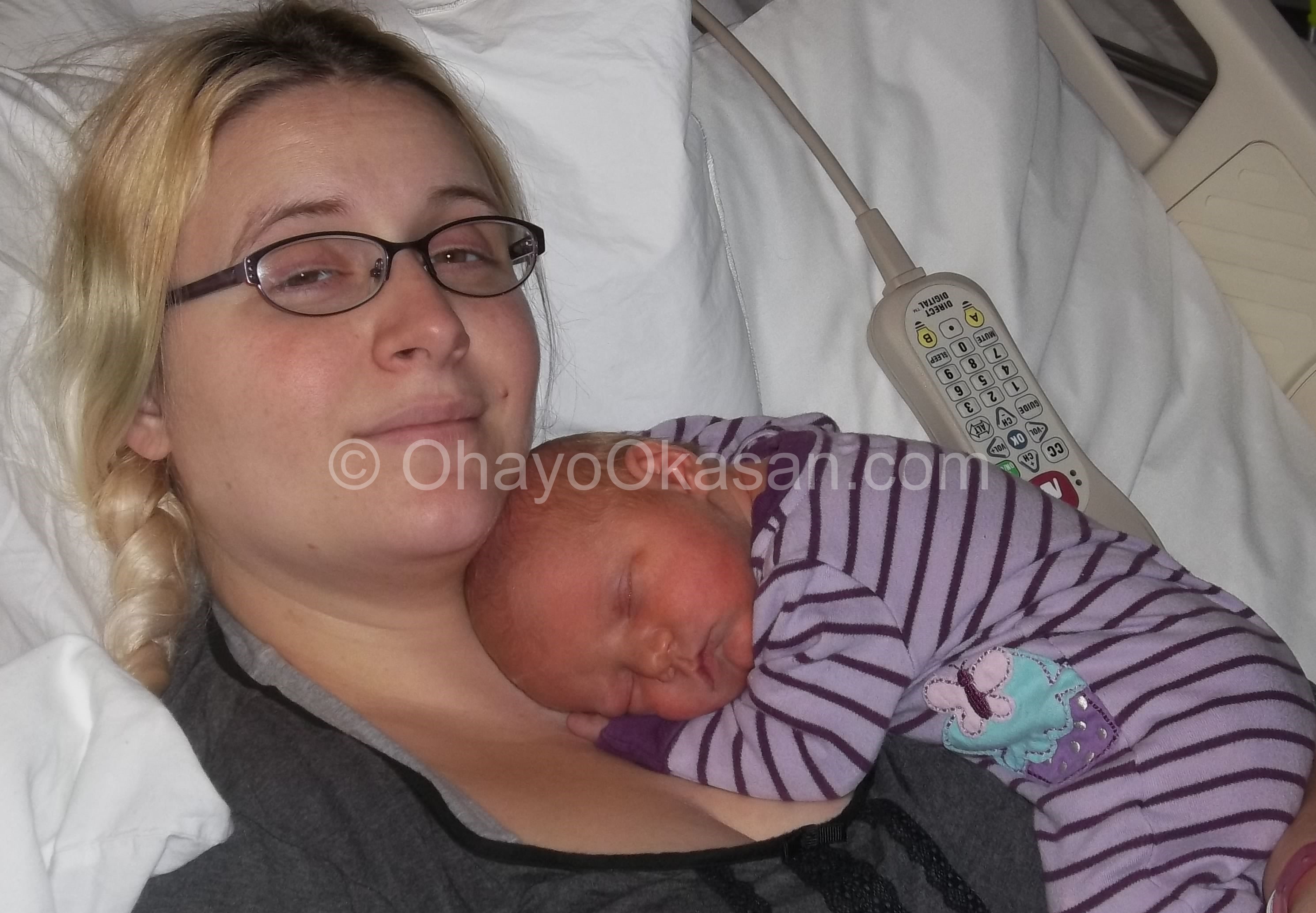 Thankfully, Risi was a champ, and though her bilirubin went up a little during the 24hrs they were monitoring her blood. Her red blood cells weren't breaking down!
One thing she did that helped her not have to stay in the hospital longer was eat, though the nurses wanted her to eat no more than 15-20ml of formula every hour or two Risi was not down with that idea. I tried to comply but she would sleep a short time and then want to eat more… and over and over and over again. Eventually I got over trying to be 'good girl' for the nurses and just let her eat. Until she was full. She ate, burped, peed, and pooped every single time.
Pooping, you know, helps get the bilirubin filtered out better. So the extra nutrition and extra dirty diapers were a good thing!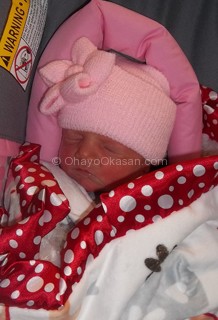 On November 7th around 11am we finally got cleared to go home!! I couldn't pack up that room fast enough to get out of there. It was great news to be allowed release after the nurses had just told me about 20 minutes previous that she might be in for yet another couple of days. I'd already not had great experiences with this hospital before, and having one baby there and being there as long as I'd been was enough for me. If I was ever having another baby, I'd drive to the hospital I had three of the older kids at and deal with some random doctor before ever using the only hospital we have here again!
Though her Pediatrician is awesome, and the nurses we had after she was born were great. I was glad to get out the clutches of the Midwife and the one awful L&D nurse who seemed snippy and refused to let me get the IV out of my arm right after delivery like my OB and I had talked about and he had agreed on. I ended up stuck with Pitocin for two  hours after the delivery, and I was so angry that I was forced to be stuck like that. It was painful and kept the panic attacks coming each time it caused a contraction. :/ I much preferred being allowed a heat pack, some tylenol, and to rub down my own uterus to the medication.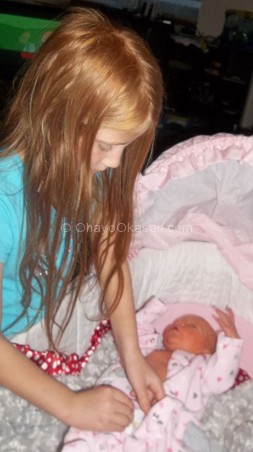 Lisi has been the most excited to have Risi  home. She's wanted to do everything from diaper changes, outfit changes, feeding and just snuggling with her baby sister.
I was pleasantly surprised at Var, who I was worried wouldn't want to be around the baby at all, actually wanted time with her and still sometimes whines that he isn't getting enough time with her. Though he's not 100% loving having yet another sister (he's the only boy out of five kids!) I do my best to let him know that he's got a very special spot as the only brother.
Risi's doing great now! Well she's been doing great actually. Her jaundice is all gone, and at a WIC appointment we had Friday she was 7lbs 14oz (she was 7lbs 4oz the Friday before!) and had grown to 20.5 inches! Wow! All that extra eating seems to have been for a reason, lots of eating and sleeping helped her grow so well. 🙂 That's my girl!
She's 12 days old today (well at 6:55pm pst she will be officially :P) and thankfully starting to have nice and alert time instead of just being such a sleepy little one.
I'm on Iron supplements for two months (starting the day we left the hospital) because my iron levels were/are too low. Probably making everything a bit worse.
I still have minor panic attacks when I attempt to lay on my left side, I wasn't able to lay on either side for the first 9 days after she was born without my entire back and chest starting to spasm again and my breathing going ragged. At times if I get overwhelmed or if I'm not too careful with myself I do something that somehow causes pain that starts the panic all over again. It really sucks, I have to get into my regular doctor soon to go back up to my proper dose of anti-depressants to see if it helps. My depression is being coupled with PPD and I'm having to ward off thoughts of hurting myself and others.
Really, last night alone the only reason I didn't do anything drastic was because if I wasn't here… the kids would be split up and likely wouldn't all see each other again. I can't have that. For now, I survive solely for them. Hopefully I'll be able to fix that about myself in the next 18 years.