Part of my Holiday Gift Guide this year involved my really looking for things for the upcoming delivery of Risi. During my search of products for babies and kids I came across Minky Couture. They offer wonderfully soft, beautiful blankets for infants on up! Actually, they even offer a mini-blanket that I like to use over my shoulder for a comfy place for Risi to rest her head on as I am burping her.
Risi is a lucky little girl who gets to have her very own Minky Couture blanket that I was given in order to facilitate this review. I got to pick between boy/girl/neutral and then had the excitement of waiting to see what was picked out to be sent to us.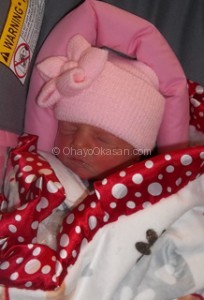 This blanket is Risi's absolutely favorite to snuggle with, and I love getting to hold her while she's cuddled up in it! It's so soft and luxurious feeling that I wish it would magically grow to snuggle the two of us up at the same time. Risi's blanket is a mix between the EleFun Silver blanket and the EleFun Chevron blanket Minky Couture has. It has the red with white polkadotted ruffle of the Chevron one, but the Silver swirl inside fabric of the Silver.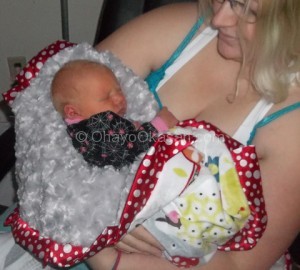 I wasn't sure I was going to love the blankets pattern when I first saw it wrapped up in the package when I got it. It was more gender neutral to me than girly, but usually when I think girly I think Lisi Princessly type girly girly!
Still once I unfolded the blanket and saw the actual EleFun fabric design better, it does have a bit of a girl twist, the flowers totally help with that cause. Plus it gives Risi something beautiful and soft without being insanely girly. I was lucky and did get a Minky Couture MINI that is absolutely, wonderfully, perfectly perfect in its girliness!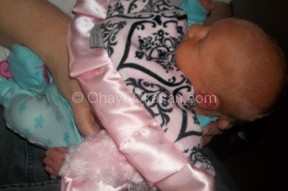 Look at it!! Pink and swirly on the inside, and the beautiful pink and black damask print on the outside with the perfect pink ruffle?? *squee!!* It's become my favorite little over the shoulder burpee cloth for Risi. Okay.. I also just like to rub it against my face happily to help me calm down when a panic attack hits. The combination of both wonderfully soft fabrics is just so soothing, and they're perfect for warmth in this miserably cold weather we're having lately.
When we leave the house, it's her Minky Couture blanket that is snuggling over Risi in her car seat to keep her warm.
I am currently drooling over the Silverlicious Purple Minky blanket in the Monster Size. It might be at the very top of my Christmas list this year! 😉 The Monster size of blanket is 60 x 72 inches, making it the perfect size for me to be able to sleep with because I'm short.. but I like my blankets tucked under my feet some and pulled up to a certain level. If I was taller like Kat, I'd want a blanket at least another foot bigger. A long Monster size? That'd be awesome!
Minky Couture will be offering an infant blanket of their choice in Boy, Girl or Gender Neutral (you get to decide between the three) to one winner of my Holiday Gift Guide 2013 Giveaway due to start later this month!
In the mean time, you can get 40% off your Minky Couture purchase by using the code blog40!
You don't have to pick just from the blankets they have listed on their site either, they have an option to customize your own Minky blanket and go from there. Perhaps someday soon I'll be able to get each of the older kids their own custom blankets to snuggle up and love!
Disclaimer: I received both of the products mentioned above to facilitate my review, still all opinions are my own. No other compensation was gained for writing this review.