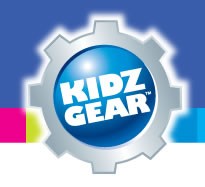 The second sponsor of my Holiday Gift Guide this year is Kidz Gear! They offer a wide variety of colorful headphones that are volume limited for the safety of your kids' ears.
I let Var pick the color of the headphones we were going to review, and as you can see he picked a purple pair! Also included for our review was the Headphone Carry Bag and 3.5mm Stereo Headphone Splitter Cable, which allows two sets of headphones to be plugged into the same device.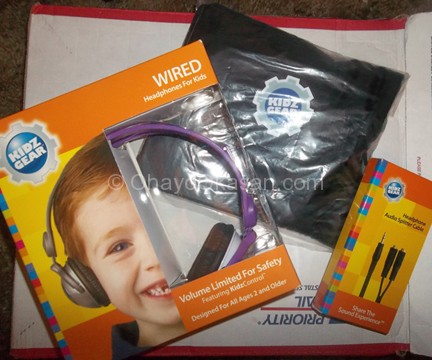 I love the splitter cable as it allows Var and Lisi to watch music videos together on Youtube and I don't have to hear anything. No fighting over headsets, and no speakers so I have to deal with whatever song they are currently fixated on hearing over and over again! I know kids love repetition but holy moly I do not!
The available colors for the wired headphones are Pink, Orange, Blue, Green, Purple, White and Gray. A color choice for every single one of my kids, ohh how tempting!
They also now offer a pair of Wireless IR Car headphones, hmm… I wonder if they'd work in my van??
I love the volume limiting feature. The headphones limit the volume output to 80% of the maximum allowed volume in headphones. Granted you can easily blast the volume on the player you're using, it will still be 20dB lower coming from these Kidz Gear headphones than it is from normal headphones. I tested the difference between these headphones and my own headphones and the difference is thankfully very noticeable!
The performance of the headphones is great, even with the volume limit these are high quality headphones with a nice little price tag, hey aren't crummy 'kid' quality in the slightest, which is great because often times things made for kids suck and just don't last well at all. 🙁 I can see these headphones lasting a good while instead of having to be replaced over and over. You have no idea how many times I've bought headphones targeted towards kids and have them be total junk!

I plan to get Lisi a pink pair for use with her iPad, so while she's doing homework on homework apps or playing games I don't have to listen to twinkly little music and she can still enjoy it. >.>
Sadly, our purple set suffered a mishap when Sis was doing a craft at the computer desk, the cable got cut. I am hoping I can easily enough fix them…
Kidz Gear is offering one Ohayo Okasan reader a pair of headphones in the color of their choice, as well as a carrying bag and a splitter! Of course this prize is reserved for the winner of my 2013 Holiday Gift Guide giveaway! 😉 You'll have to keep an eye out for that hmm?
You can find Kidz Gear on Facebook as well as Twitter!
Disclaimer: Kidz Gear provided a pair of headphones, headphone bag, plus splitter in order for me to do this review. No other compensation was provided, all opinions are my own.