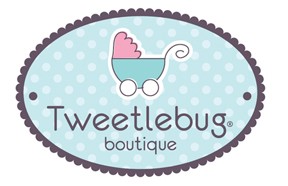 One of the sponsors of my 2013 Holiday Gift Guide is Tweetlebug Boutique, who offers adorable hospital hats for both boys and girls. I was so lucky to recieve two hats to review! When I originally asked to review a hat, Michelle of Tweetlebug asked me what I was interested in. I told her the ones I loved the most and she was so sweet to send me both of them! *squee!*
This first hat is called The Ruby. An adorable pink hat with a 5-pointed flower. This was the hat that we had Risi wear first in the hospital, well after she got her first bath so it didn't get dirty of course. The midwife and all the nurses who came across us were absolutely in love with this hat! It's just too cute for words and looks awesome on Risi! As you can see below in her getting ready to go home photo, just too cute for words.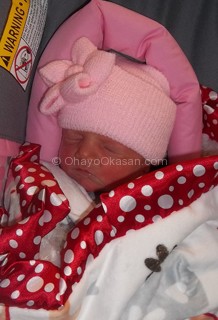 Risi's second hat is The Lila, as you can see it's a pink hat with a bow that has a white ribbon in the center. Another adorable bow that again got a million comments on how cute it was when Risi wore it in the hospital as you can see below. 
The quality of these hats is awesome, they're so darn adorable I have a hard time choosing between the two for each outing. It's super cold out lately and the last thing I want is Risi (who is a week old today!) to have a cold head. Thank goodness I have such cute hats at my disposal.
The hats are handmade in the USA of the same material as the hospital hats you get from the get-go at the hospital, but they're easily a thousand times cuter! These are hats that I am going to keep in a special box forever as they're not just cheap and 'disposable' like the ones you get in the hospital. 😉
You can check out Tweetlebug Boutique on Facebook as well as Twitter!
Tweetlebug Boutique will be part of the Holiday Gift Guide giveaway!! The winner of the giveaway will get one (1) Tweetlebug Boutique hat of their choice! Stay tuned for the giveaway and other reviews in the Holiday Gift Guide!
Disclaimer: As mentioned above I recieved two hats to review from Tweetlebug boutique. Still all opinions expressed are my own based off experiences with them.