Disclaimer: This is a sponsored post by Dress First, of course all opinions are my own and I do indeed love the dresses I have drooled over and posted here! 
Or you know, in my case just finding beautiful dresses that you know your daughter would just die having! 😉
Okay, of course these dresses are all Flower Girl dresses that you can find at Dress First! Lots of them are beautiful, but some are just extremely perfect and I know that if I could afford to get Lisi one she would probably squeal with happiness over the most perfectly perfect pick for a 'Princess' dress ever!
Here are some of my favorite flower girl dresses! Granted I'd probably get any of them in pink instead of just the color shown. Like this first one, it's shown here in Lilac but they DO have a pink option. Isn't it just beautiful?!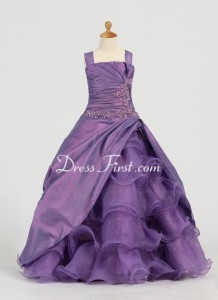 Next up is this one, I'm not sure I love the openness of the back of the dress, but other than that it's absolutely perfect. Perhaps as a present for a special aged birthday if she's still into Princess dresses and all that?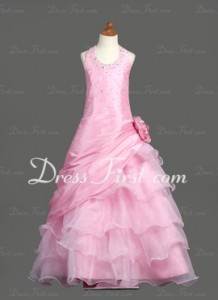 This next one may be a little too busy, and I'm not sure about the Watermelon pink, but the lighter pink would probably look a bit better? At least I personally think so, they do have a very wide range of colors for these dresses. 🙂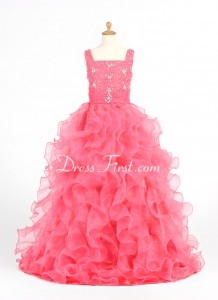 This one I like a fair bit, because it actually has sleeves. Lisi is the type to want to wear a Princessly dress all the time if you'd let her. If she didn't go to a school that had uniforms she'd probably want to wear pretty dress up clothes daily! She practically lived in her Halloween costume for two months (yes I did wash it very regularly!) the year before she started school. 😛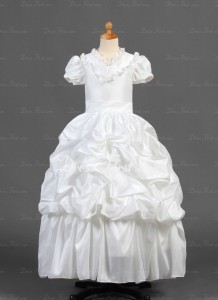 A no go on the white of course, but pink would look perfect. More so if the lace stayed white!
Do you have a little one that loves Princess type clothes? Would you ever buy them a somewhat expensive dress instead of just your standard lower-priced play dress up ones?
Disclaimer: This is a sponsored post by Dress First, of course all opinions are my own and I do indeed love the dresses I have drooled over and posted here! 😉