I would like to introduce the WeightMaster Digital Bathroom scale by Ozeri! This digital bathroom scale features Microban antimicrobial technology! Microban inhibits the growth of odor and stain-causing bacteria, which when you think about it is great for a scale that's sitting in your bathroom and is stepped on by many a pair of bare feet!
The scale is 13.5 x 1 x 14 inches total, and weighs only 4.7 pounds! Your weight can be checked in either pounds or kilograms, going in increments of 0.2lbs or 0.1kg.
The second you step on this scale it's ready to go! Once you're off it turns off automatically so the batteries don't run out fast. Only two AAA batteries are needed to run this scale, and they're included with your purchase so it's ready to go right out of the box.
While I'm not actively trying to lose weight, Cid is and it's great to have a scale around to check our progress. I'm trying not to gain too much right now, and I like to check every morning after I wake up. Even tired and blurry eyed I can read my weight on the large blue-backlit LCD screen!
I love that this scale seems to match the ones at my doctor's office pretty much perfectly! So I'm not thinking I'm heavier or lighter than my doctor is getting me in at when I go in.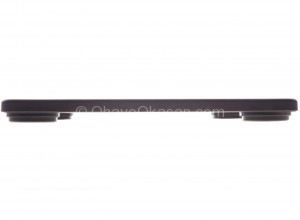 It's also just so thin and light! I was honestly surprised that it works as well as it does all things considered, I've had non-digital bathroom scales before and they always gave me issues and just didn't seem to be all that great. This scale works right off the bat and I've yet to have a single issue with it at all! I'm so happy to have  this scale in my bathroom!
It's even available for purchase at amazon with FREE prime shipping! Ozeri has great customer support and your satisfaction is 100% guaranteed, so don't be afraid to ever contact Ozeri if you run into any problems with your scale.
I received one or more of the products mentioned above for free using Tomoson.com. Regardless, I only recommend products or services I use personally and believe will be good for my readers.