I love apples. I hate apple sauce, but I love apples. Particularly green ones. Sadly, my teeth have problems so I can't easily bite into a full apple and enjoy. So sliced it is. I've never found a way to keep sliced apples from getting brown and weird if I wanted to eat them later in the day or on the go. They either taste funny or just don't work.
Also, I noticed that Var has a tendency to be a little strange about food at times. Sliced at home apples using various different methods, or full apples in his lunch just wouldn't get eaten very well. But he loves apples, more so when they're sliced. He seems to prefer small manageable pieces of food, and maybe that was the issue with my slicing apples. Our apple slicer doesn't make slices very thin at all, they're pretty thick.
Then one day I was lucky to spot Crunch Pak at our local Walmart and was curious, could this be solution for us? Why not? I could get Var to eat some more fruit (okay that actually isn't too hard.. he loves Blueberries, Cherries, Strawberries and Blackberries already!) that would be easily manageable!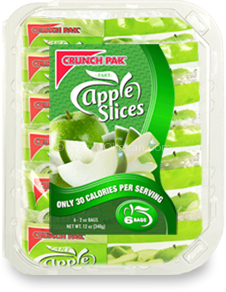 More so when they sell packs like this! 6 little baggies of delicious sliced apples (they also have red) that are perfect for me to toss in his lunch bag or hand him to take on a car ride or trip with his PSR worker so I know he's getting in something healthy instead of throwing him a bag of chips or some other cookie/candy snack pack. These are also great for rushed mornings when people are still eating breakfast on their way to school as I drive, it spares me the time of trying to cut apples when I'm already running around like a chicken with her head cut off.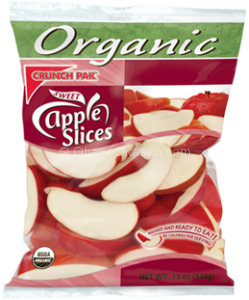 Crunch Pak even offers Organic apple slices for those who try and eat organically only, so the same convenience with the organics you want!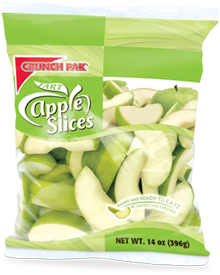 When we're not in a hurry or anything else, I find the family pack of apple slices to be just right! I can grab a few slices when I am feeling mindlessly snacky and not feel at all guilty about eating them. I mean what's to feel guilty about? I didn't reach for chips at least!
I got a bag of these recently and they didn't even last the day, Lisi had a couple of friends over for a sleep over and between Lisi, Var, Y and S (the two girls over) they were gone by the morning! They snacked on the entire bag as they watched tv and movies until they were tired. I didn't care at all that they'd gone through an entire bag of these instead of wanting something junky snack wise.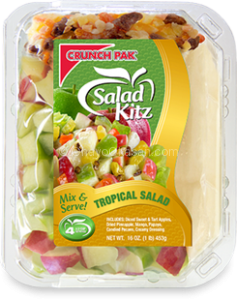 Recently Snack Pak has come out with these Salad Kitz! I've never actually tried one, because I am strange and don't like the idea of fruit mixed with my salad fixings. I'd eat the apples on the side, but.. I can't get with the mix of fruit and veggies in this form. Still, lots of people like salads like this, and the one listed above makes a total of 4 1/2 cups servings at only 130 calories each. Not bad at all!
There are other options from Snack Pak too, single serve options of veggies with dip and fruits with dips, and even now apple slices infused with other fruit flavors too! I haven't tried any of the infused apple slices just yet, but if the kids ask I will let them.
Disclaimer: I received coupons to try Crunch Pak products at free of charge in order to write this review. No other compensation was given for this post. All thoughts and opinions are my own.