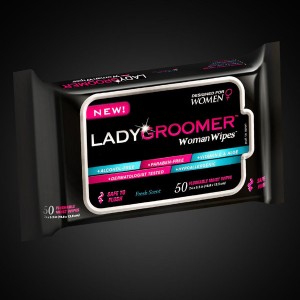 I would like to introduce to you, Woman Wipes by LadyGroomer!
These awesome wipes are flushable, soft, hypoallergenic, free of parabens and alcohol, infused with vitamin E and Aloe for the best wet-wipe I've ever used! And yes I've used some wet wipe type things in the past.
I love the scent of this product, and the way it makes me feel absolutely clean after going to the bathroom. I keep one pack in my upstairs bathroom, one downstairs, and one in my purse for public restrooms. I absolutely hate the cheap, rough, thin toilet paper in public restrooms so LadyGroomer woman wipes to the rescue it is!
They even have a neat video about these wipes that I wanted to go ahead and take a moment to share with you all…
LADYGROOMER Woman Wipes – Flushable Moist Woman Wipes Designed for Women from MANGROOMER on Vimeo.
I'm absolutely thrilled to get to share my positive experience with these wipes with everyone, and would say that I highly recommend these as a great way to stay clean and fresh during the day no matter what you're doing. These do beyond what regular dry toilet paper does, going for an extra level of cleanliness that I greatly appreciate.
Lady Groomer Woman Wipes are available at Bed Bath & Beyond as well as Online through their website!
Now then, the fine folks at Lady Groomer are allowing me to do a giveaway of a 3 pack of these wipes for one lucky Ohayo Okasan reader!
Ganbatte ne!
Disclaimer: I received a 3 pack of these wipes to sample in order to facilitate this review, no other compensation was gained from this post. All opinions are my own and may not reflect yours. LADYGROOMER is responsible for prize shipment.