Glass With a Twist… hmmm, what would you expect from a place with such a name? Glasses that are twisted? Glasses that are strange? I don't mean glasses that you wear, I mean glassware.
I was so lucky to get to experience the wonderful customer service and glassware from this company!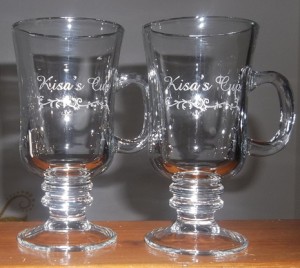 I went ahead and got two cups, like allowed, and picked the Irish Coffee Mugs, because I liked the shape and general design of them and wanted something to drink smaller amounts of coffee in than I was currently using. After that, I got to go ahead and pick my font, what I wanted the cups to say, and a design from their list of various designs.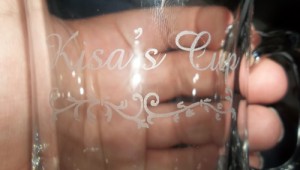 I don't have the best pictures ever here but it's hard for me to phototgraph mugs I guess… because I'm just not the best at photography. 😛
Anyway, customer service was awesome! Prompt, polite and just a pleasure to deal with. Shipping was prompt and the cups were well packaged and came without a single issue!
I love the way my mugs turned out, and yes I completely and totally need two coffee mugs. One for when the other is dirty or … whatever. 😛
I love how the design came out! They say "Kisa's Cup" with a vine design under them and I am so happy they came out more lovely than I imagined!
Glass with a twist has beer, wine, champagne, shot, cocktail, martini, margarita, and coffee mugs. LOTS of various things for you to pick from and enjoy! No setup fees, no minimum order! I want to get some for someone special someday soon! 😉