Are you a blogger trying to get more facebook/twitter/pinterest/etc likes and follows? What about more pageviews and being part of an AWESOME  EVENT?
Sign Up now!   to be part of the Hello Winter $1000 Giveaway event! This event is sure to bring you lots of likes/follows/whatever you're looking to get!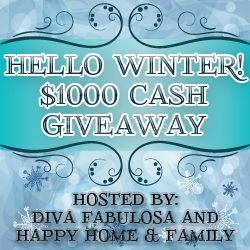 Price: $7 for Facebook and Daily Picket Fence vote and $5 for other social media links
Deadline of Sign Ups: December 30, 2012
Event Dates: January 22, 2013 – February 22, 2013
Please say that Ohayo Okasan or Kisa Tate-Johnson sent you! Thanks so much!