I am pleased to be able to review this beautiful canvas I got to design at Easy Canvas Prints. They allow you to put a Photo To Canvas of just about any type. Of course, I picked one of my own pieces of art because I just couldn't wait to have one… and I have no good group pictures of the kids that would work for a canvas. Then I didn't want to do just one kid and make the other kids upset. So… one of my pictures it was!
I was so thrilled to open the package and see my beautiful picture presented this way! From drawing, to Photoshop coloring… and now here on this canvas? I am absolutely in love and have this hung above my fireplace!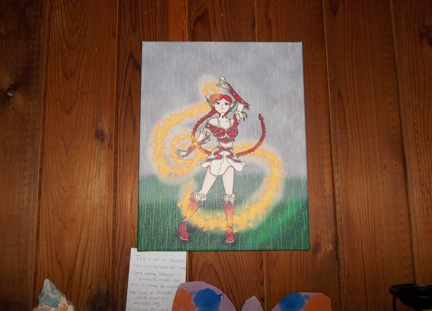 I chose to have the image wrap around the edge of the canvas, but Easy Canvas, which is part of a company that also prints Banners had other options as well. You could mirror the edges of the image, or just have a color wrap around the edge of the canvas. I just wanted the photo wrap because I thought it looked the best for the particular image to me.
Isn't it lovely? It fits perfectly! I was so happy with my choice that I decided instead of my room, which was my original idea for a hanging place, I would do above the fireplace. Now I have my own art above my fireplace and I feel… perhaps just a little egotistical. I have a hand drawn drawing of Lisi downstairs in the TV room, an assignment that was a dozen eggs near the kitchen, and now this. But this is the only one of my works of art in color. At the top of the stairs is a pretty print of Panda's from my Aussie Mum (aka MIL)
The wonderful folks over at Easy Canvas Prints are allowing me to give away one 11 x 14″ canvas print of whatever photo you desire, from their stock or your own to the winner! Free shipping is included! This is currently a $64 value… plus whatever for the shipping!
All you have to do to enter is fill out the Rafflecopter below! Thanks for reading and…. ganbatte ne!
Please be aware that you need to be 18+ and in the lower 48 (no Hawaii or Alaska sorry) for this giveaway
Disclaimer: Easy Canvas prints did allow me my own 11×14″ Canvas designed by me in exchange for my honest review, just as they are allowing the giveaway winner the same.